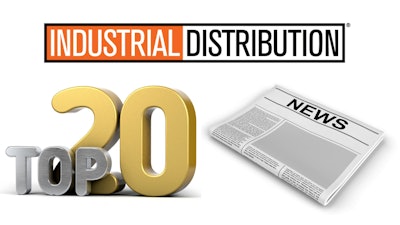 It's the final days of the year, which means we're all inundated with countless "Top XX of the Year" lists. To that I say, embrace it. Even in such a tumultuous year as 2020, it's always worth taking a look back at the year that was.
Here's a look back at the top 20 most-read news items published by Industrial Distribution during 2020, which was dominated by impacts of COVID-19 on distributors, suppliers and the greater industrial products supply chain.
If you saw my recaps for ID's Top 10 articles, blogs and videos this week, you might be asking, 'Why 20 for news?' Well for one, the opportunity to use "Top 20 in 2020" was too good to pass up. But more importantly, 2020 had more major news than any of my 5+ years with this publication. As the business impacts of COVID arrived in North America in bulk between March and April, it seemed there was at least one major news headline every day regarding a large industrial distributor or supplier taking significant cost-cutting measures or an industry event being cancelled. You'll see that many of the top news items of the year were published in that March-April timeframe.
Here's the news that made the biggest waves on ID in 2020:
1. White House Taps Industrial Suppliers to Ensure PPE Supply Chain - published March 24. This was the most-viewed item by a good margin. Industrial distributors have always been deemed critical to keeping the United States moving, but that role was amplified greatly once the pandemic hit. On March 17, the White House organized a conference call between President Donald Trump, Vice President Mike Pence and a group of 32 senior executives in the industrial supply retail and wholesale sector regarding the United States' response to the COVID-19 pandemic. I included CEOs from a handful of company's on ID's Big 50 List
2. Ingersoll-Rand's Industrial Spin-Off, Trane Formation to Complete Feb. 29 - published Feb. 17
3. HD Supply Selling White Cap Business to CDR for $2.9 Billion - published Aug. 11
4. Fastenal Buys Assets of Apex Industrial Technologies - published March 31
5. Report: 3M Shifts Mask Sourcing to Regional Suppliers as Demand Surges - published March 6
6. Grainger Show 2020 Cancelled Amid Coronavirus - published March 5
7. Grainger Talks Pay Cuts, Furloughs, Safety Measures - published April 24
8. Fortive Announces New Global Industrial Company: Vontier - published Jan. 20
9. Fastenal Trims 400 Sales Staff in May as Safety Line Surges 136% - published June 4
10. Honeywell Aerospace Plant to Make N95 Masks - published March 30
11. McMaster-Carr Planning Major HQ Expansion - published July 23
12. Fastenal Q2 Sales Jump on PPE Surge While Fasteners Sink - published July 14
13. HD Supply Postpones Separation; CEO Waives Salary - published March 30
14. Macpherson Addresses George Floyd Aftermath to Grainger Employees - published June 4
15. BlackHawk Industrial Acquires Machine Tools Supply from DNOW - published Feb. 3
16. Sonepar USA Makes Strategic Leadership Changes - published June 23
17. Motion Industries Makes Pair of Acquisitions - published Aug. 3
18. NAW to Pence: Don't Bypass Distributors in Supply Chain - published March 25
19. WESCO International Cuts Executive Salaries by 25% - published April 30
20. Milwaukee Tool Announces New WI Hand Tools Plant - published Jan. 24
Notably missing from this list is the news that The Home Depot is buying HD Supply, but just narrowly at No. 21. With that news published on Nov. 16, it likely will vault into the top 15 a month or two from now.
Here's to 2021: May its top 20 ID news items include far less of the negative variety.