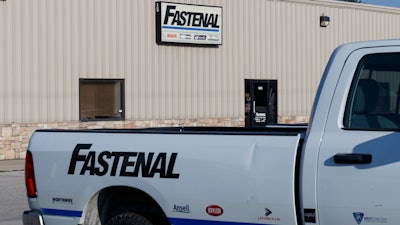 iStock
Fastenal reported its 2020 second quarter financial results on Tuesday, showing that surging demand for its personal protective products was more than enough to outweigh considerable decline in its fasteners product segment amid the COVID-19 pandemic.
The Winona, MN-based company's Q2 total sales of $1.51 billion grew 10.3 percent year-over-year and grew 10.2 percent from Q1. The company noted that Q2 was heavily influenced by actions taken by governments and businesses globally to address the pandemic. Fastenal's Q2 daily sales also grew 10.3 percent, while gross profit grew 4.7 percent at 46.9 percent of sales. Meanwhile, Q2 operating profit of $316 million jumped 14.9 percent year-over-year, while total Q2 profit of $239 million increased 16.7 percent, and grew 17.7 percent from Q1.
Fastenal said that as it managed the effects of business closures and the general economic slowdown in Q2, the company saw lower sales in its traditional branch and Onsite operations, leading to lower vending sales.
"Taking these two variables together, surge sales of PPE more than offset the decline in our traditional business, producing the net sales increase in the second quarter of 2020," the company stated Tuesday, adding that higher product pricing implemented throughout 2019 and the first half of 2020 was a lesser contributor.
The company said that sales of surge-type PPE were steady at high levels in April and May before starting to taper in June.
"As we enter the third quarter of 2020, and as the chaos surrounding the pandemic and our pipeline of orders lessens, we expect surge-type orders to decline," Fastenal said in its Q2 earnings release. This may be partly mitigated by businesses reopening, more supply becoming available, companies increasing just-in-case quantities on hand and/or additional pandemic-related developments."
Product Mix
Fastenal's fastener sales were down 22.5 percent year-over-year in April, down 15.3 percent in May and then down 11.4 percent in June.
Overall, Q2 fastener daily sales were down 16.4 percent year-over-year and accounted for 26.0 percent of total sales, compared to 32.9 percent and 34.5 percent in Q1 2020 and Q2 2019, respectively.
Meanwhile, safety daily sales, including PPE, surged 116.3 percent in Q2 year-over-year and comprised 34.0 percent of total sales, compared to 19.8 percent and 17.5 percent of sales in Q1 2020 and Q2 2019.
Fastenal's Other products daily sales declined 7.5 percent year-over-year, representing 40.0 percent of total sales, compared to 47.3 percent and 48.0 percent in !1 2020 and Q2 2019.
End Markets
Fastenal's Q2 manufacturing and non-residential construction end markets were down 9.4 percent and 10.3 percent on a daily basis year-over-year, respectively, while daily sales to the government end market rocketed 226.7 percent. Those government sales went to health care organizations — a subset Fastenal groups with government — more than quadrupling.
Branch Count and Headcount
Fastenal ended Q2 on June 30 with a total public branch count of 2,060, down 31 from Q1 and down 105 year-over-year. Combined with active Onsite locations, the company ended June 30 with a total in-market location count of 3,272, up two from Q1 and up 2.5 percent year-over-year.
Fastenal ended June 30 with an absolute employee headcount of 20,667, down 1,464, or 6.6 percent, from Q1. Its full-time-equivalent (FTE) headcount of 17,814 was down 7.4 percent from Q1 and down 9.4 percent year-over-year.
For FTE, Fastenal lowered its selling personnel by 1,421, or 7.1 percent in Q2 to 13,186; lowered distribution personnel by 12.6 percent to 2,615; lowered manufacturing personnel by 7.4 percent to 625; and raised administrative personnel by 1.5 percent to 1,388.
Fastenal said while some demand-based activities will resume in Q3, the company continues to hold operating costs below pre-pandemic levels. This includes FTE employee costs, though much of the decline is in part-time headcount and hours worked. Fastenal noted Tuesday that full-time headcount is off just 3.8 percent as it seeks to retain talent.
Vending & Onsite
Fastenal signed 3,483 industrial vending devices in Q2, compared to 4,798 in Q1. As of June 30, the company's installed device count was 92,615, up 7.9 percent year-over-year. Fastenal said the higher installed base count was more than offset by significantly reduced device throughput due to the decline in economic activity.
Fastenal signed 40 new Onsite locations in Q2, compared to 85 in Q1. The company ended June 30 with 1,212 active sites, up 18.1 percent year-over-year.
In April, Fastenal revised its 2020 signing goals for vending devices and Onsites to better reflect a sharply weakened marketplace and customer environment amid the pandemic.
E-Commerce
Fastenal's Q2 e-commerce sales up 13.5 percent year-over-year. The company said growth slowed in April along with the activity of its largest customers, but grew back into the mid-teens in May and June.
June results
Fastenal's June 2020 sales of $524 million were up 20.4 percent year-over-year, with daily sales up 9.5 percent, as June 2020 had two more selling days than June 2019.
Geographically, June US sales were up 10.5 percent year-over-year, down 1.2 percent in Canada/Mexico and up 20.6 percent in Rest of World.
By end market, June daily sales to manufacturing customers fell 8.2 percent and fell 5.5 percent to non-residential construction customers.
By product line, June sales of fasteners fell 11.4 percent year-over-year, safety sales surged 94.9 percent and other sales fell 6.3 percent.