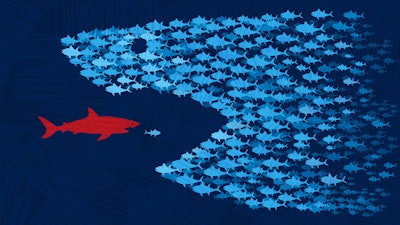 iStock
We knew the incredible pace of M&A activity seen in the industrial supply sector over November-January wasn't going to last forever. The record-setting amount of deals finally came back to earth after early February, resuming its solid-but-unspectactular rate seen in most months in pre-COVID times.
After January set a single-month record for the most M&A news items posted on Industrial Distribution with 41, February checked in at 17. Again, that's a figure typical in this market during pre-pandemic, but significantly trails the breakneck pace seen from September 2021 through January. The month started out on fire once again, with 10 M&A news items posted on ID through Feb. 7. But it cooled quickly after, with news of only six deals posted the rest of the month.
RELATED: ID's 2021 M&A Recap: Breakneck December Closes Major Rebound Year (Jan. 4)
Nevertheless, there were several major deals in February for the industrial supply sector. The two biggest were Relevant Industrial's Feb. 15 announcement that it will acquire Rawson/ICD from ERIKS North America, and the news that Sonepar's industrial products distribution brand, Vallen Distribution, will be bought by private equity firm Nautic Partners. Vallen was No. 12 on ID's 2021 Big 50 List, while ERIKS NA was No. 23.
Here's everything we covered during February (including a few deals from late January), in reverse order of their announcement date:
RELATED: ID's January M&A Recap: 2021 Ends, and 2022 Begins, With M&A Onslaught (Feb. 1)
Of course, this list doesn't include EVERY M&A deal announced during February. Despite our best efforts, there's always relevant deals announced that either weren't on our radar, or that weren't made public. But, this list should provide a good idea of most M&A activity applicable to the industrial supply market.
See our January M&A recap here
See our December and full-year 2021 M&A recap here
If your company has news to share, M&A or otherwise, contact me at at mhockett@ien.com.
As always, the best way to stay on top of industrial supply M&A news is to make sure you're subscribed to ID's free daily e-newsletter.