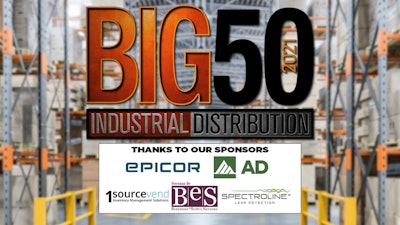 Weathering the Storm
Most industrial distributors would surely like to forget 2020. The vast majority of firms on our 2021 Big 50 List saw considerable year-over-year sales declines as economic shutdowns led to a nosedive in demand for industrial products that keep facilities running.
As this industry always does, it persevered through 2020, though not without bruises. Many distributors on this list had to enact pay cuts and furloughs just to survive the pandemic's business impacts, while juggling how to keep their employees safe while maintaining operations.
The entire industrial distribution sector should be commended for keeping supply chains moving during an incredibly challenging year, and those challenges have only multiplied in 2021. The lasting pandemic, a lack of labor and materials shortages have resulted in considerable pricing increases for distributors to deal with. Elsewhere, port congestion and natural disasters have made receiving product in a timely fashion harder than ever before.

Nevertheless, distributors have told ID they'll be much more excited to report their 2021 revenue figures than they were after a lemon of a year in 2020. So, while you peruse this section, keep in mind that many of these companies have seen much better results so far in 2021 as industrial demand has greatly rebounded.
WATCH OUR BIG 50 COUNTDOWN VIDEOS: Part 1: 50-31, Part 2: 30-11, Part 3: 10-1
We don't just produce the Big 50 each year as a nice accolade for large distributors to garner. We know many executives and industry analysts utilize the list as a reference and snapshot of who the biggest market-movers are in this space. We're glad to be of service in that regard.
Congratulations to all distributors who earned a spot on Industrial Distribution's 2021 Big 50 List, and here's hoping for a much rosier market heading into 2022.
— ID Managing Editor Mike Hockett
Without further ado, here's the 2021 Big 50 List.
Industrial Distribution's 2021 Big 50 List

#

Company

Headquarters

2020 Sales

Top Executive

Locations

Employees

1

Lake Forest, IL

$11.49 billion

DG Macpherson

486

23,100

2

Radnor, PA
$6.1 billion
Marcelo Fioranelli
1,400+
18,000

3

Birmingham, AL
$5.68 billion
Randy Breaux
500+
7,000+

4

Winona, MN
$5.65 billion
Dan Florness
3,268
20,229

5

Dayton, OH
$4.2 billion
John McKenzie
633
7,200

6

Norcross, GA
$4+ billion
John Stegeman
400
7,000

7

WESCO International (Industrial)

Pittsburgh, PA
N/A*
John Engel
800
18,000

8

Melville, NY
$3.15 billion**
Erik Gershwind
28
6,294

9

Cleveland, OH
$3.06 billion**
Neil Schrimsher
568
5,900

10

Houston, TX
$2.56 billion
Rob Saltiel
220
2,592

11

Greenwood, IN
$2.3 billion
Dan Hill
≈100
≈2,300

12

Vallen Distribution (Industrial)

Belmont, NC
$1.7-2.0 billion
Chuck Delph

503

4,203

13

Houston, TX
$1.62 billion
David Cherechinsky

195

2,450

14

Bedford, MA
$1.44 billion
Jeff Pope

2,660

95

15

Newport News, VA
N/A*
Daniel Hogge

180

3,500

16

Port Washington, NY
$1.03 billion

Barry Litwin

7

1,600+

17

Houston, TX

$1.01 billion

David Little

193

2,220+

18

Bloomfield, CT

$1.0 billion

Ben Mondics

220

2,000

19

Novi, MI

N/A*

John Beaudoin, Mitch Bair

65

1,100

20

Cleveland, OH

$714 million

Carl James

214

1,361

21

Wood Dale, IL (US)

$614 million

Daniel Harms (Americas)

41

1,339

22

Columbus, OH

$605 million

Bill Canady

53

1,400

23

ERIKS (North America)

Pittsburgh, PA

N/A*

Eric Hoffman

98

1,300+

24

Houston, TX

$453 million

Craig Osborne

96

1,300

25

Tulsa, OK

$436 million

John Mark

40

818

26

Sunnyvale, CA

$430 million

Bill Matthews

41

589

27

Ann Arbor, MI
$400 million

Manoj Sachdeva

17

948

28

Wajax (Industrial Parts)

Mississauga, Ontario
$387 million

Mark Foote

114

2,500

29

Brillion, WI
$366 million

Steve Endries

12

875

30

Descours et Cabaud (North America)

Raleigh, NC
$359 million

Philippe Legris

68

850

31

Border States Electric (Industrial)
Fargo, NC
$355 million

David White

104

2,400

32

Lawson Products

Chicago, IL

$352 million

Michael DeCata

21

2,000

33

Kimball Midwest

Columbus, OH

$302 million

Pat McCurdy

4

1,800

34

Hisco

Houston, TX

$300 million

Bob Dill

38

537

35

Turtle & Hughes (Industrial)

Linden, NJ

N/A*

Jayne Millard & Kathleen Shanahan

15

850

36

Wheeling, IL

$266 million

Jim Hobbs

31

N/A

37

Greensboro, NC

$234 million

Ed Pearce

29

364

38

Cedar Falls, IA

$226 million

David Jones

16

N/A

39

Cincinnati, OH

$215 million

James E. Stahl, JR.

3

243

40

Orange Park, FL
$176 million

J. Palmer Clarkson

49
567

41

Fort Worth, TX

$175 million

David Parks

31

425

42

Portland, OR

$165 million

Tim Loy

31

500

43

Florence, AL

$142 million

David Ruggles

16

320

44

Greenville, SC

$141.25 million

Kip Miller

18

340

45

Flint, MI

$141 million

Scott Shively

14

420

46

Merriam, KS

$132 million

Jeff Cloud

35

324

47

Liverpool, NY

$131 million

Kevin Kilkelly

5

359

48

Annapolis Junction, MD

$129 million

Doug Ardinger

14

277

49

San Jose, CA

$122 million

David Hefler

14

160

50

Danvers, MA

$118 million

Bud Richard

12

90
Notes
*Confirmed their revenue figure to ID but elected to not have it published
**Calendar 2020. Applied Industrial Technologies and MSC Industrial Supply's fiscal year ended at least several months before the rest of the companies on our list, so to level the field, we accounted for their calendar 2020 sales. Applied's fiscal 2020 sales (ended June 30, 2020) were $3.25 billion, and MSC's (ended Aug. 29, 2020) were $3.19 billion.
#45 Eastern Industrial Supply's sales were $200K higher than #46 Shively Bros.
Feel like comparing?
Worth Mentioning
Compiling this year's Big 50 List was more challenging than ever, given the business impact that COVID-19 had on industrial distributors during 2020. More companies than usual were hesitant to share their revenue figures — which is required for Big 50 inclusion — or opted out of participating altogether, citing considerable declines in 2020 sales vs. 2019. This left us with a smaller pool of distributors to draw from, but also allowed certain distributors to move up the list from last year.
Thus, there were about a dozen industrial distributors that were left off the 2021 Big 50 List that would've certainly otherwise made the cut, or had favorable odds to. We figure it'd be an injustice to the industry to ignore them altogether, so here is an alphabetically-listed 'Honorable Mention' of those distributors — some of which have been Big 50 regulars over the years, or have been on-and-off the list:
Amazon Business
HD Supply
Crescent Electric Supply
Edgen Murray
Essendant
Mahar Tool Supply
McMaster-Carr
Perry Supply
Purvis Industries
Uline
SunSource
Womack Machine Supply
METHODOLOGY
All Big 50 List companies are ranked according to their 2020 full-year global sales, and all figures are reported in USD. All Big 50 companies are based in North America, or if headquartered elsewhere, we account only for their North American operations. Master distributors are not eligible for Big 50 List inclusion.
We obtain information for publicly-traded companies based on their annual and quarterly reports, earnings statements and company verifications. For non-publicly-traded and privately-held companies, we rely on their self-reported data and follow-up communication. Recently published press releases, company website information and other news reports are also used to supplement company data for our Big 50 feature. The Big 50 interviews were conducted via email, survey and by phone by Industrial Distribution editorial staff. To be eligible for Big 50 consideration, company information had to be submitted by Sept. 7.
We elect to refrain from listing any companies that don't confirm their sales information to ID or don't fit our definition of an 'industrial distributor', which becomes more challenging each year as the market evolves and distributors continue to diversify their product mix.
Any company that we've listed 'N/A' for in their sales has confirmed their 2020 industrial sales figure privately to ID, but has elected to not have that figure publicly displayed.
There are about a dozen companies, such as Amazon Business, HD Supply, McMaster-Carr, SunSource and others that we acknowledge would rank on our Big 50 List, but elect to keep their industrial sales figures private.
For those of you who don't see your company name on our list, but think you should, please contact us with your information and we'll consider adding your company to our Big 50 pool for 2022. As always, your feedback — good or bad — is appreciated. Find more Big 50 methodology information on our website.
Top of the World
Starting in 2018, Industrial Distribution's Big 50 List adjusted its methodology to focus on North American-based industrial distributors to best represent our audience, of which the vast majority is in North America. Until then, the Big 50 had a global focus, ranking industrial distributors regardless of which nation their headquarters was in, and with a lesser focus on 'industrial' sales. With that, the top two spots on the Big 50 belonged to either Germany-based Würth Group or England-based Wolseley from 2012-2017.
If you still use the global sales criteria ID used to use, Würth Group is still the world's largest industrial distributor with 2020 sales of about $17 billion, a company record that was up 1 percent over 2019 despite the pandemic. In business since 1945, Würth consists over more than 400 companies, one of which is Würth Industry North America — which is No. 11 on this year's Big 50 List.
Würth's core business is the sale of fastening and assembly materials. The company spans over 400 branch offices and shops in more than 80 countries, backed by about 81,000 employees.