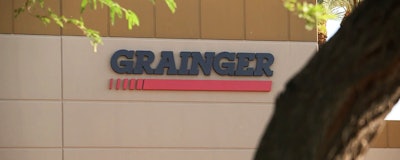 CHICAGO — MRO products distributor Grainger has recognized as a top-scoring company and one of the "Best Places to Work for Disability Inclusion" on the 2018 Disability Equality Index (DEI) for a second straight year.
The DEI is a joint initiative between American Association of People with Disabilities and the US Business Leadership Network, jointly designed by disability advocates and business leaders as a comprehensive benchmarking tool for disability inclusion. The index measures key performance indicators across organizational culture, leadership, accessibility, employment, community engagement, support services and supplier diversity.
"Earning high marks on the Disability Equality Index is a source of pride for Grainger and recognition of our focus on talent management, team member wellbeing and creating an inclusive and diverse workplace," said David Rawlinson, Grainger Senior Vice President, President of Online Business and executive sponsor of Grainger's Disability Business Resource Group (BRG). "We are passionate about cultivating a great work environment for our team members, because they are critical to the success of our business. We know that a great customer experience starts with a great team member experience, and both are driven by engaged and effective leaders."
This past year, Grainger formed a new disabilities-focused BRG, open to all team members, including those with disabilities and allies of those with disabilities. The group is one of Grainger's nine BRGs that provide peer support, career development and mentoring opportunities, in addition to raising awareness through a variety of discussion groups and activities.
For more information on the 2018 Disability Equality Index, visit www.disabilityequalityindex.org.
To learn more about how Grainger cultivates a positive work environment for its team members, visit https://www.graingercsr.com/valuing-people/a-place-to-thrive.
For more information on careers at Grainger, visit https://jobs.grainger.com.