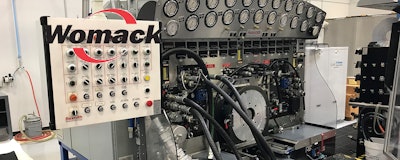 FARMERS BRANCH, TX — Womack Machine Supply, a few spots outside of Industrial Distribution's 2017 Big 50 List, has announced the expansion of its repair and service capabilities. Womack will build on more than 20 years of service and repair experience out of its mountain region by opening a new facility in Dallas, TX. This Womack location will also become the first ever Rexroth Industrial Hydraulic Authorized Repair and Service Center (ARSC).
The Womack Service Center will commence full operation on June 4.
The Dallas ARSC is staffed with experienced Rexroth trained and certified technicians providing factory certified repairs using genuine Bosch Rexroth parts according to certified Rexroth assembly & test processes. Repairs will be fully tested and measured on a state-of-the-art Rexroth test stand according to Rexroth new unit specifications.
"We appreciate our partnership and close cooperation with Womack over many years and recognize their investment in our ARSC program as a progressive step and commitment to providing superior support for our customers for years to come," said Olivier Welker, vice president of Bosch Rexroth Industrial Hydraulics.
Womack will provide ARSC repairs for Rexroth pumps and motors that are 200cc and below for Texas, Oklahoma, Arkansas and Louisiana. In addition to Rexroth products, this service center will also repair products from other manufacturers up to 355cc for all of Womack's 18-state territory.
Matt Oldroyd, Managing Director & Chief Operating Officer of Womack Machine Supply stated: "We are excited to announce the opening of our Dallas Service and Repair Center. We recognize the value of the ARSC program and believe the Dallas ARSC is a significant step in expanding the service and support that both Womack and Rexroth provide to our mutual customers. We also look forward to working with new customers through this updated service capability."
Based in Farmers Branch, TX, Womack Machine Supply is an industrial distributor of hydraulic, pneumatic and automation equipment.