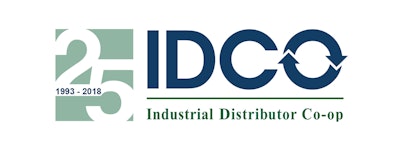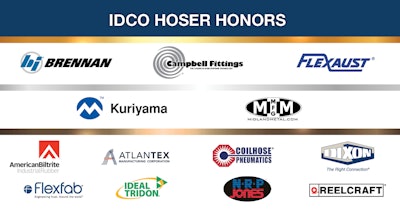 IDCO Co-op has announced the finalists of its 2018 Hoser Honors program.
The Hoser Honors Program recognizes the superior performance of IDCO Endorsed Suppliers and rewards them with benefits such as prominent logo placement on the new idco.coop home page and primary booth placement at the IDCO Expo. To earn this ranking, IDCO suppliers must earn excellent scores in four different categories including sales, number of members sold to, program score, and member ratings.
The Hoser Honors nominees are:
Gold Level Suppliers: Brennan Industries, Campbell Fittings, Flexaust
Silver Level Suppliers: Kuriyama of America, Midland Metal Manufacturing
Bronze Level Suppliers: American Biltrite, Atlantex Manufacturing, Coilhose Pneumatics, Dixon Quick Coupling, Flexfab, Ideal Clamps, NRP Jones, Reelcraft
"Thank you for the recognition! It's an honor and a privilege to be a proud member of a nationally recognized organization that strives to help their members to be more successful," said Stacey Stirling of Atlantex Manufacturing Corporation. "Atlantex truly values our partnership with the IDCO Network of industry leaders. As a result of being part of IDCO, we've experienced greater networking opportunities that have helped our family-owned company become more successful. More importantly, we appreciate the unique connections & friendships we've formed with highly respected leaders in our industry."
IDCO currently has 70 distributor members in the US and Canada, and over 70 endorsed suppliers. IDCO suppliers are leading manufacturers of hose, fittings, gaskets, rubber materials and other related industrial products.