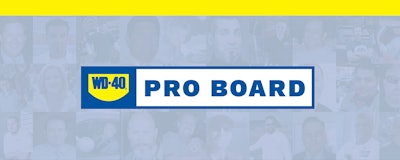 SAN DIEGO — WD-40 Company is recruiting members in the automotive, construction, farming, maintenance, repair and operations fields to provide input on new WD-40 Brand products and uses, and to learn how to further help users get the job done right.
This initiative is part of a remastered PRO Board program, which serves as a way for WD-40 Company to hear unbiased feedback from trade professionals.
"At WD-40 Company, we deeply value the opinion of our end-users and believe each user can provide valuable feedback on new products and uses," said Tony Lim, project manager for WD-40 Company.
In order to most effectively partner with members, WD-40 Company's PRO Board is launching three tiers of partnership: member, ambassador and master. Each tier receives different promotions and provides unique opportunities for users to give valuable feedback, improve industry tools, make some money and get great WD-40 Brand products along the way.
For more information about WD-40 Company's PRO Board, its full summary of benefits and further explanation of its three-tiered system, visit wd40proboard.com. If interested in joining WD-40 Company's PRO Board, please email cmw@nstpr.com or visit wd40proboard.com/signup.