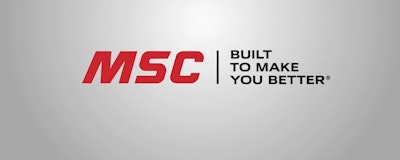 MELVILLE, NY and DAVIDSON, NC — Saint-Gobain Abrasives has been selected from more than 3,000 top companies to receive MSC Industrial Supply Co.'s annual "Supplier of the Year" award. Sandvik Coromant and Parker Hannifin were recognized with breakthrough Supplier of the Year awards. MSC — No. 11 on Industrial Distribution's 2017 Big 50 List — is a distributor of Metalworking and MRO supplies to industrial customers throughout North America.
Saint-Gobain Abrasives, headquartered in Worcester, Massachusetts, supplies a wide range of abrasive products under its leading Norton brand. Saint-Gobain Abrasives was recognized with the premier Supplier of the Year Award, MSC's top supplier award. The Saint-Gobain Abrasives team successfully aligned its business model with MSC's leading metalworking business to bring Norton solutions-oriented products and technical expertise to help drive the efficiency and productivity of MSC's and Saint-Gobain Abrasives' mutual customers.
MSC introduced its annual Supplier of the Year awards program in 2017. Award selection is based on a rigorous set of criteria, including a strategic approach to customer service, technology innovation, new product introductions, breadth and quality of brand portfolios, operational excellence, sales training and engagement, and marketing and sales materials.
In addition to the premier Supplier of the Year Award, this year MSC introduced awards for breakthrough suppliers. These awards were presented to Sandvik Coromant and Parker for outstanding effort, partnership and above-market performance within the Metalworking and Managed Assembly Consumables categories, respectively.
Sandvik Coromant, with global headquarters in Sandviken, Sweden and U.S. headquarters in Fair Lawn, New Jersey, is the world's leading supplier of tools, tooling solutions and know-how to the metalworking industry. With extensive investments in research and development, the company creates unique innovations and sets new productivity standards together with their customers.
Parker Hannifin is the world's leading diversified manufacturer of motion and control technologies and systems. Parker operates in 50 countries and employs approximately 57,000 people worldwide.
"Although we consider all MSC suppliers among the best of the best, these three suppliers exemplify the drive, commitment, technical expertise and world-class brands, products and solutions that help us fulfill our commitment to making our customers' businesses better," said Greg Polli, Sr. Vice President of Category Management for MSC. "We greatly appreciate the considerable investment of resources these suppliers make with MSC to support our many mutual customers."