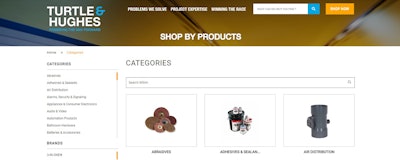 LINDEN, NJ — As part of its continued digital transformation, electrical and industrial distributor Turtle & Hughes has launched an e-commerce platform with the latest search and web-crawling technology on a redesigned turtle.com website.
According to Ajay Kamble, Chief Information Officer at Turtle & Hughes, "To enhance our customer journey, it is imperative that we provide an omni-channel experience, which is seamless and consistent across all channels. An experience that blends both the digital and physical worlds, allowing us to interact with our customers online, at our counters or at their place of business. This enhanced portal with fully attributed product specifications and industry-leading search capabilities will provide our customers with the best user experience."
Ease of use was a primary emphasis in developing the e-commerce site. The full-service catalog has 250,000 SKUs, which are continually being expanded. Search is available by product or manufacturer, catalog numbers, category, keywords and several additional filters that refine search criteria. Customers can search past order history and current open orders, and easily re-order from a pre-built group, or pick and choose from an existing order.
There is a quick and easy process for opening a secure account and receiving in-stock quotations and prompt shipment. Some of the larger Turtle & Hughes Integrated Supply (THIS) customers also now benefit from robust product punch-out catalogs specific to their business. The e-commerce platform is powered by Unilog, the industry's leading provider of product data and content management, and B2B eCommerce software.
The redesigned responsive website includes enhanced content with ease of navigation and a contemporary look and feel. Visitors to the site share the same experience from a desktop, tablet or smartphone.
Turtle & Hughes was No. 26 on Industrial Distribution's 2017 Big 50 List.