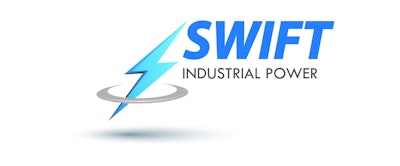 KNOXVILLE, TN — Swift Industrial Power, a provider of high-quality products and services in the stationary and motive power industries, as well as the wireless services industry, has announced the development of a new logo and plans for an updated website.
"As part of the ongoing evolution of our company brand, we've developed a new company logo to better reflect who we are today as well as our direction for the future," said Mike Swift, President of Swift Industrial Power. Swift explains, the new logo includes updated colors and graphics for the 52-year-old company.
In addition to the new logo, the company developed a new tagline, "Fully Charged Solutions."
"We believe this tagline truly communicates our company's philosophy of always working for our customers," added Swift.
The company is also developing an updated website with improved navigation and easier accessibility across platforms. The new site will allow Swift Industrial Power to provide a greater focus on their material handling and integrated solutions business segments. The new website is expected to launch later this spring.
Currently, Swift has eight locations spread across the southeast with more than 90 employees. For more information, visit www.swiftpower.com.