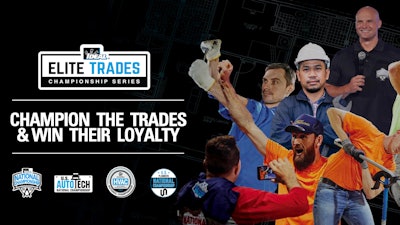 Intersport
SYCAMORE, Ill. – Intersport, an independent, award-winning marketing agency headquartered in Chicago, along with IDEAL Industries, a family-owned business that designs and manufactures products for the professional trades, announced that Dunlop Protective Footwear has signed on as a premier sponsor of the annual Elite Trades Championship Series.
With a legacy of promoting craftsmanship, innovation, safety and comfort, Dunlop Protective Footwear complements the prominent event, which showcases and celebrates the skill and expertise of America's tradespeople across key industries including electrical, automotive, HVAC and plumbing.
"Dunlop's mission has always been to empower the makers and doers of the world to get the job done safely," said Colin Clark, CMO of Dunlop Protective Footwear. "We are proud to partner with the Elite Trades Championship Series to celebrate America's tradespeople with the next generation of the work boot for safety and comfort every step of the way. "
This partnership showcases Dunlop's steadfast commitment to championing the needs of modern tradespeople, providing them with the best in footwear technology for unmatched safety and comfort. The press release copy from Dunlop echoed this sentiment, stating,
"Our partnership with the Elite Trades Championship Series allows us to introduce next-generation safety and comfort to America's new generation of tradespeople, who are powering the world to get the toughest jobs done. ​Dunlop is here for America's tradespeople every step of the way."
The Elite Trades Championship Series promises to be a riveting event, celebrating the diligence, skill, and determination of tradespeople across the nation. The yearly spectacle brings together the nation's most proficient tradespeople under one roof. Professional and apprentice finalists from a months-long series of qualifying events will face off in a custom-built arena for head-to-head competitions that challenge and reward their skills with prizes totaling more than $300,000 in cash and sponsor-provided goods.
The Championship events will kick off on Oct. 26 at the Tampa Convention Center in Tampa, Florida. Specific finalist events will include the 8th annual IDEAL National Championship for electricians, the 3rd U.S. Auto Tech National Championship Driven by Yokohama, the 2nd ServiceTitan HVAC National Championship and the inaugural Plumbing National Championship. The Elite Trades Championship Series finals will be broadcast in December on the CBS Sports Network.
The championship series was developed by IDEAL INDUSTRIES, Inc., a trailblazer in the trades industry, to celebrate the essential tradespeople who keep the country running and help grow the awareness of incredible career opportunities in the skilled trades across the country.