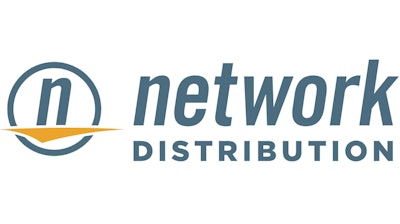 Network Distribution
SCHAUMBERG, Ill. — Network Distribution recognized member distributors for outstanding performance and support during the organization's annual membership meeting, held in Nashville.
"We're privileged to have the very best distributors as a part of this organization," said CEO Alan Tomblin. "Their dedication and engagement are a critical ingredient in Network's success. We're pleased to honor their contributions."
Nassco Inc. received Network's most coveted honor: "Member of the Year." Through leadership, integrity and excellence, Nassco contribute to the long-term success of Network. The award recognizes the member dedicated to serving Network Distribution and their fellow distributor members. Nassco is headquartered in New Berlin, Wisconsin, and serves across the Upper Midwest.
Walter E. Nelson was named "Sales Member of the Year." The company demonstrated outstanding results in generating growth and strong partnership with the Network corporate account sales team. Headquartered in Portland, Oregon, Walter E. Nelson serves the Pacific Northwest.
BradyIFS was presented Network's "Business Development" award, which recognizes the distributor demonstrating deep commitment to pioneering, collaboration, growth and strategic foresight. BradyIFS is headquartered in Las Vegas.
Imperial Dade was honored as "Purchasing Member of the Year" for its support of Network's suppliers and purchasing programs, as well as posting outstanding growth. Imperial Dade is headquartered in Jersey City, New Jersey.
Additional Network awards presented included:
Netsource Champion: Acme Paper and Supply, Savage, Maryland
IT Excellence: Maintex, City of Industry, California
Operations Excellence: Acme Paper and Supply, Savage, Maryland