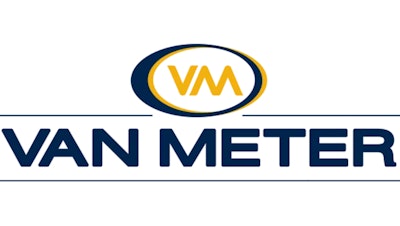 Van Meter Inc.
CEDAR RAPIDS, Iowa – Inc. revealed Wednesday that Van Meter, an electrical distributor that provides contractor and industrial solutions, ranks no. 3,489 on the 2023 Inc. 5000, its annual list of the fastest-growing private companies in America.
The prestigious Inc. 5000 ranking provides a data-driven look at the most successful companies within the U.S. economy's most dynamic segment: its independent, entrepreneurial businesses.
"It's an incredible achievement for us — a result of operating with purpose, working hard, embracing smart business practices, scaling responsibly and believing in one another," said Van Meter President and CEO Lura McBride. "I'm so proud of our people and the work they do to power our growth."
Companies on the 2023 Inc. 5000 are ranked according to percentage revenue growth between 2019 and 2022. During this time frame, Van Meter achieved an impressive three-year revenue growth rate of 143.74% and added more than 300 jobs in its served markets.
In addition to a spot on the overall Inc. 5000 list, honorees are ranked within specific business categories. Van Meter claimed No. 398 nationally among companies providing business products and services.
According to McBride, Van Meter's growth derived from a combination of initiatives.
"We've been intentional about entering new markets, pursuing strategic acquisitions and expanding the scope of products and services we offer customers, alongside our ongoing efforts to build relationships, leverage technology and improve our operational efficiency," McBride said.
The Inc. 5000 class of 2023 represents companies that work hard to grow and be competitive in their industry.
"They have driven rapid revenue growth while navigating inflationary pressure, the rising costs of capital and seemingly intractable hiring challenges," said Inc. Editor-in-Chief Scott Omelianuk. "To make the Inc. 5000 — with the fast growth that it requires — is truly an accomplishment."
When asked what made remarkable business growth possible at Van Meter, Nate Jensema, the company's chief operating officer and chief financial officer, credited an unwavering commitment to its "5P" values: people, partners, progress, place and profit.
"We help our people be their personal best. We develop strong relationships with our customers and suppliers. We're committed to improving ourselves and our company every day," Jensema said. "We give back to the communities where we work and live. And we reinvest our profit back into our business and people.
"Our employee-owners are motivated about growing our business and evolving the ways we create value for our customers. This recognition validates their all-in commitment to one another and the people we are privileged to serve."
Inc. has recognized the fastest-growing private companies in America since 1982, with companies such as Microsoft, Patagonia, Under Armour, Facebook, Dell, Zappos, LinkedIn, Yelp, Zillow and many other well-known brands gaining their first national exposure as honorees on the Inc. 5000 list.
"It's an honor to be recognized among so many influential brands—companies that represent the top half percent of growing businesses in America," said McBride. "We're going to celebrate earning a place on this prestigious list and then turn our eye toward what's next. That's been the Van Meter way for more than 95 years.