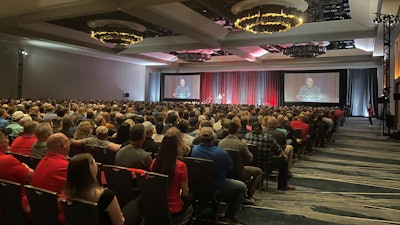 Dakota Supply Group
PLYMOUTH, Minn. — Dakota Supply Group, a leading distributor of innovative products and services, announced the celebration of its 125th anniversary and annual ESOP meeting.
The company has been providing exceptional products and services to its customers since 1898, and the 125th anniversary is a significant milestone worth commemorating.
The anniversary celebration was held at the Gaylord Rockies Resort in Denver to accommodate employees, partners and other stakeholders. The event was a fun-filled occasion that included the annual employee-owner ESOP meeting with the annual stock price reveal, followed by featured music, food and drinks, all in celebration of DSG's accomplishments over the past 125 years.
"Reaching 125 years in business is a testament to the resilience, hard work, and dedication of our employee-owners and stakeholders," said Paul Kennedy, president and CEO. "We are excited to celebrate this momentous occasion and reflect on our achievements while looking forward to the future. We owe our success to our employee-owners, our steadfast communities whom we serve, our exceptional customers who have trusted us to provide them with high-quality products and services over the years, and our supplier partners whose innovation we bring to market."