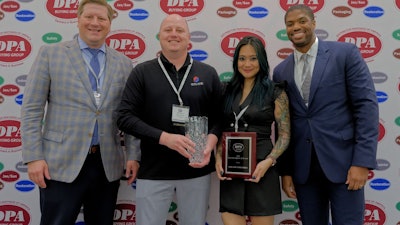 DPA
CINCINNATI — The DPA Buying Group held its annual "Industrial Buying & Networking Conference" at the Hyatt Regency Jacksonville Riverfront in Florida on April 24-26.
During a Wednesday awards luncheon, DPA announced its 2022 industrial award recipients.
DPA's 2022 Industrial Distributor of the Year went to Trade Tools of Mendota Heights, Minnesota, while the 2022 Industrial Supplier of the Year went to valve and fitting manufacturer Midland Industries of Kansas City, Missouri.
DPA also announced its Industrial Excellence Award winner at the luncheon, presented to cable tie manufacturer Cable Tie Express of Noblesville, Indiana.
"These award recipients each grew with us significantly over the last several years and are very deserving of their recognition," said DPA CEO Zachary Haines. "We are so pleased to have them associated with the DPA organization."