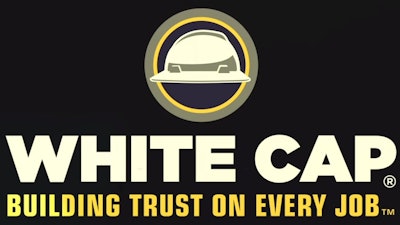 ATLANTA — White Cap, a distributor of specialty construction supplies and safety products for professional contractors, and DeWalt, a Stanley Black & Decker brand and leader in jobsite solutions, announced a charitable partnership to support the critical mission of St. Jude Children's Research Hospital: Finding cures. Saving children.
On June 25 at Nashville Superspeedway, there will be a special dedication to St. Jude on the No. 20 DeWalt car, co-branded with White Cap, along with a special presentation of a $100,000 donation to benefit St. Jude families. Because of generous donations like these, families never receive a bill from St. Jude for treatment, travel, housing or food – so they can focus on helping their child live.
With the help of Joe Gibbs Racing, No. 20 racecar driver Christopher Bell will be sporting a custom-made helmet inspired by artwork created by St. Jude patients. In addition, White Cap and DeWalt will be inviting the family of a St. Jude patient to be special guests at the race.
In lead-up to the race, a portion of the purchase price of select DeWalt products at all U.S. White Cap branches will be donated to benefit St. Jude during the month of May. Details about this promotion can be found at your closest White Cap branch.
"White Cap's long-standing support of St. Jude Children's Research Hospital and DeWalt's mutual passion for this cause, is what brought us together to fundraise and promote the mission of St. Jude through a special event on June 25 at Nashville Superspeedway," said John Stegeman, Chief Executive Officer, White Cap. "We are proud to make a difference for St. Jude with our supplier partner DeWalt."
"In partnership with White Cap, DeWalt is honored to support St. Jude's mission of providing life-saving care, research, and the comforts of home while never leaving families with a bill," said Maria Ford, President, Commercial Construction, Stanley Black & Decker. "St. Jude builds a sense of community that aligns with our company's purpose of 'For Those Who Make the World."
"We are incredibly grateful for 11 years of support from our friends at White Cap," said Richard C. Shadyac Jr., President and CEO of ALSAC, the fundraising and awareness organization for St. Jude Children's Research Hospital. "This partnership, along with the commitment of DeWalt, Joe Gibbs Racing and race fans around the globe, will help to accelerate our mission to find cures and save more of the 400,000 children around the world with cancer each year."
To donate to St. Jude, visit stjude.org.