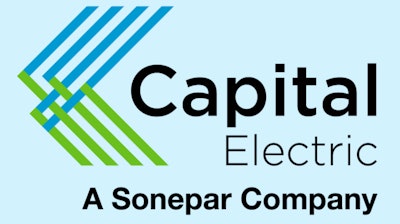 Sonepar
UPPER MARLBORO, Md. - Capital Electric, a Sonepar company and electrical products and services distribution company serving contractors in states across the Mid-Atlantic, announced that Capital Electric's Diversity, Equity, and Inclusion Committee will award educational scholarships to support two students from underrepresented backgrounds in funding their higher general education.
"Our scholarship program demonstrates our commitment to DEI and our desire to support talent in the geography where we do business," said Drew Esce, president of Capital Electric.
"This is Capital's first year offering educational scholarships. The committee is thrilled to help aid in making a positive impact in the communities we serve. We look forward to reviewing the submissions and gaining insight from a student's perspective on the topic of inclusion," said DEI committee member Christina Hyde.
All applicants will be asked to write a short essay answering the topic, "Discuss how diversity, equity, and inclusion has played a role in your education and how it has contributed to who you are today." The deadline to submit is May 10.
To promote the scholarship program, Capital Electric has created a dedicated webpage at capitalelectricsupply.com/promotions/scholarship. Applicants must reside in Capital's footprint, which extends to Pennsylvania, Maryland, Virginia, West Virginia, North Carolina, South Carolina, and Georgia.
Flyers are currently being distributed at Capital Electric branches and via sales associates in the field.