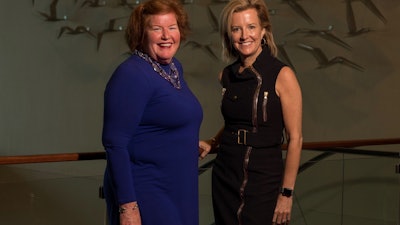 Turtle
LINDEN, N.J., — The National Association of Corporate Directors New Jersey Chapter named Turtle the "Private Company Board of the Year" at the organization's 2023 Annual Director of the Year Awards.
Taking place Monday night at a formal ceremony at the Pleasantdale Chateau in West Orange, the event recognized public, private and nonprofit board leaders in the state.
"Turtle is enormously proud to be recognized with this great honor. We are grateful for the professionalism, dedication and deep expertise that each of our board members brings to our company's governance and strategy," said Jayne Millard, Turtle executive chairman of the board. "Together, they are invaluable partners in anticipating the marketplace challenges ahead, and in fueling our bold innovations to seize opportunities in the decades to come."
Turtle is one of the nation's largest independent electrical and industrial distribution companies. As part of its 100-year anniversary celebration, Turtle recently unveiled its new brand as a strategic energy solutions leader helping its customers with their next-century design, engineering and electrification needs.
As a fourth-generation, family-owned company, Turtle has been led by women through three eras, including the present. Millard has been at Turtle for 32 years, rose to CEO in 2010, led as co-CEO with Kathleen Shanahan for three years and assumed her current position in 2020. Under her leadership, the company has implemented best-in-class governance practices and is well-regarded by governance professionals.
Kathleen Shanahan, Turtle's first CEO outside the family and a former Turtle board member, said, "It is a great opportunity to learn from the Turtle board member's experience as we drive our customer service to the next level of excellence."
"Turtle's best-in-class governance practices are well-regarded by the director community and we are delighted to honor the company as this year's 'Private Company Board of the Year' at NACD New Jersey's Director of Year Awards," said Trish Oelrich, board chair of NACD New Jersey.