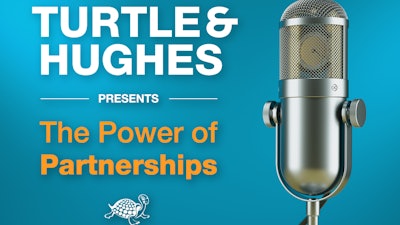 LINDEN, NJ — Expanding on its omnichannel approach to providing the best customer experience and drive better relationships, Turtle & Hughes has launched a new podcast called, "The Power of Partnerships." The industrial and electrical distributor will release recorded episodes on the first calendar day of each month featuring conversations with supplier partners. 
"This provides yet another avenue to share our expertise with customers while giving them the flexibility to tune in when it's convenient for them," said Kathleen Shanahan, Turtle & Hughes CEO. "It's a much more personal approach for our technical leaders to share advice, industry insights, tips, and work-related experiences, that we hope will be impactful and engaging."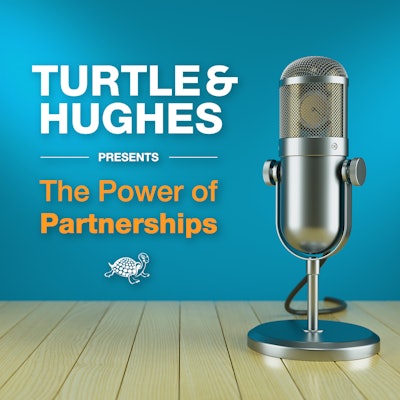 The podcast will explore a wide range of topics, including industrial automation, infrastructure, lighting, energy, power distribution, and supply chain — and highlight how customers can benefit by increasing efficiency, reducing costs and saving energy. 
The first episode aired in September. Chris Price, head of TSI Turtle Services, sat down with Rick Peters, CISO Operational Technology, Fortinet, for an in-depth look at its cybersecurity platform for industrial customers. October will feature Turtle & Hughes Integrated Supply President, Scott West, and George Krauter, MRO consultant and author of Outsourcing MRO: Finding a Better Way. Krauter is an authority on innovative methods in distribution and MRO outsourcing. 
You can find and share "The Power of Partnerships" on your favorite podcast platform – Spotify, Apple Podcasts, Amazon Music, and more. It will also be available soon on the turtle.com website.
Turtle & Hughes has close to 100 years of market experience and ranks among the top 20 electrical distribution companies nationwide. It is an independent, woman-owned business that services the industrial, construction, commercial, electrical contracting, export and utility markets. Turtle & Hughes Integrated Supply division (THIS), services Fortune 100 companies operating nationwide, and in Canada, Puerto Rico and Mexico.