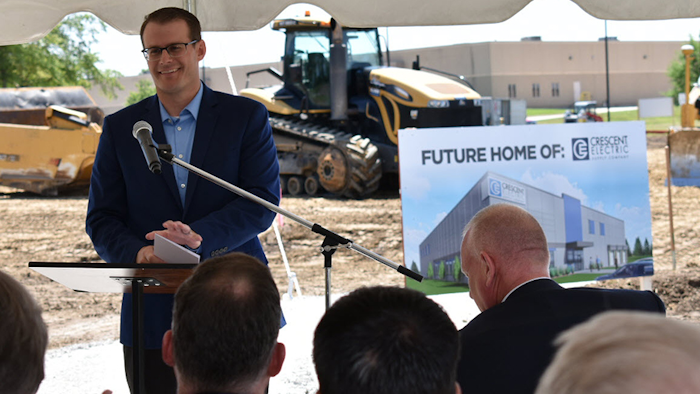 EAST DUBUQUE, IL — Crescent Electric Supply Company, the eighth largest electrical distribution company in the U.S., has broken ground on a new customer service and distribution center at 3501 111th St in Urbandale, IA, a suburb of Des Moines. The 28,000 square foot building will serve contractors, commercial, institutional and industrial customers throughout the greater Des Moines area. This facility has the potential to expand to 130,000 square feet as market conditions dictate.
Marty Burbridge, Crescent president and CEO, opened the ceremony by welcoming a group of approximately 60 attendees, including Iowa Lieutenant Governor Adam Gregg and Urbandale Mayor Bob Andeweg (each speaking later in the program to recognize Crescent's commitment to Urbandale and the State of Iowa).
"Crescent Electric was founded in Dubuque (Iowa) in 1919 and we have served the Iowa construction market continuously for 99 years," Burbridge noted. "This new facility is the latest example of our commitment to Iowa, bringing our total number of branch locations in the state to 14."
Crescent is partnering with Ryan Companies and Gronen Development on the project, which has a planned completion date of December 15, 2018.
Crescent Electric serves contractors, commercial, institutional and industrial customers with a broad line of electrical, lighting, industrial, automation and datacomm products from more than 150 branches nationally. In addition to the Crescent Electric brand, customers are served by Womack Electric in Virginia and North Carolina; BA Supply in Missouri; Mesco Electrical Supply in Ohio; Interstate Electric Supply in Idaho, and Stoneway Electric in Washington, Oregon and Idaho. 
Crescent Electric's industrial products segment was ranked No. 43 on Industrial Distribution's 2017 Big 50 List.