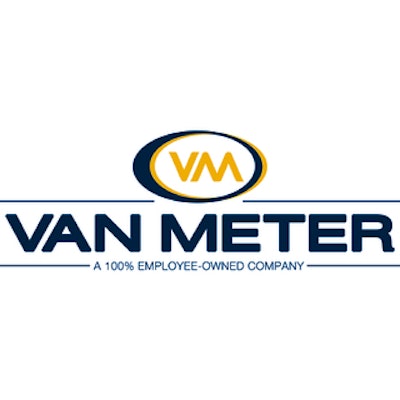 CEDAR RAPIDS, IA — Van Meter Inc. – No. 28 on Industrial Distribution's 2015 Big 50 List – has been selected as one of Iowa's 2015 Top 150 Workplaces. Top Workplaces are determined based solely on employee feedback. Van Meter Inc. ranked fourth among Iowa's top midsized companies. This is the fourth consecutive year on the Top Workplaces list for Van Meter.
The employee feedback survey is conducted by WorkplaceDynamics, LLP, a leading research firm on organizational health and employee engagement. WorkplaceDynamics conducts regional Top Workplaces programs with major publishing partners across the United States. In Iowa, WorkplaceDynamics partners with The Des Moines Register.
What makes Van Meter a winning workplace? According to Van Meter Chief Operating Officer, Lura McBride, it's the people. "When you hire the right people and create a culture where they can be engaged and understand how they make a difference, everything else takes care of itself," states McBride. "Delivering a positive employee-owner experience is the best way to ensure we deliver an exceptional customer experience."
In 2015, one-hundred percent of Van Meter's employee-owners participated in the company's engagement survey via WorkplaceDynamics. The company reported an engagement score of 80 percent, which is well above the national average of about 30 percent. "We are enthusiastic about our work and our passion is contagious," adds McBride. "Every employee-owner is focused on creating lasting value for the people we serve – our customers, our suppliers, our community partners and one another."
According to McBride, Van Meter focuses on the "total" wellbeing of its people. This encompasses traditional things like heath, wellness and safety, but also includes financial stability, personal growth and development, flexible scheduling to allow for better integration of work and home life, and a very progressive parental leave program. The company recently introduced a new vacation policy called TOTAL (Time Off To Appreciate Life). It is a personal accountability plan where employees take ownership of their time away from work.
The Des Moines Register published the complete list of 2015 Top Workplaces in a special section on Sept. 13. View the list here.