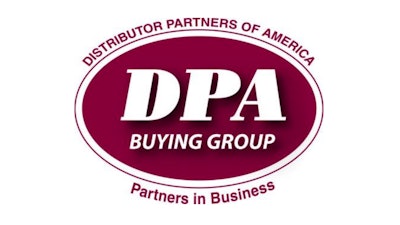 With supply chains in disarray and every business variable imaginable weighing on the industrial market, there's never been a better time for partnerships. Buying groups and coops have long served the market for independents looking for a leg up, providing resources and buying power to help small businesses scale and gain competitive advantage. As the pandemic's challenges wane and others ramp up in their place, we asked some top buying group leaders how their organizations are making a difference in these turbulent times.
Zachary T. Haines, CEO of DPA Buying Group, discusses the biggest challenges and the group's initiatives to combat them.

Biggest Challenge Facing Distributors
Supply chain disruption and workforce (hiring and retention) continue to be the greatest challenges facing independent distributors today. Honorable mentions include rising inflation and cash flow.
The COVID-19 pandemic wreaked havoc on traditional product pipelines. This has led to price volatility and extended lead times for customers. Many distributors still find themselves scrambling to identify reliable sources of supply. Many manufacturers have responded by increasing their minimum order and prepaid freight requirements.
The labor shortage is due to a variety of factors, such as early retirements, skills shortages, government intervention and the rise of a "gig" economy – more people preferring part-time and temporary positions. Another cause is a reluctance of companies to better compensate their employees.
How DPA Can Help
The DPA Buying Group is partnered with over 230 manufacturers and wholesalers in the industrial and contractor supply industry. Additionally, DPA has one of the largest selections of safety/PPE vendors of any buying group in the industry. Throughout the pandemic, we were able to partner with new suppliers to make sure our members always had access to the products they needed. These strategic relationships include lower minimum order requirements and better prepaid freight policies. We also partnered with a human resources company to help members find and hire employees. The savings DPA generates for distributors through our programs helps them reinvest in their companies and retain sales personnel.
DPA's Big Wins from the Past Two Years
DPA held its record-breaking buying and networking conference this past May in Ft. Lauderdale, Florida, at the luxurious Marriott Harbor Beach Resort & Spa. Our "Together Towards Tomorrow" conference featured over 140 exhibitors of tools, fasteners, safety and janitorial products. Words cannot describe how great it was for DPA distributors and suppliers to interact in-person again. Distributors took advantage of special show promotions and DPA's party was held right on the beach with live music and interactive entertainment.
DPA also recently completed its 2022-2023 Buyer's Guide. This 70-page publication contains a listing of all DPA suppliers sorted by industry and product category. The physical version was mailed to every DPA distributor this month and a digital version is also available as resource for product procurement. We appreciate all of the DPA suppliers that advertised and helped make this publication a success.
Lastly, next year DPA plans to reimplement its Travel Incentive Program to reward distributors and suppliers for sales growth and achievement.
Our Most Ambitious Initiative Still to Come
Our primary goal is to create value for our member distributors and partner suppliers. This means continuing to add new companies to the group that would further benefit our organization, but also to facilitate more ways to increase sales with our existing membership. DPA plans to implement a series of sales training workshops in the coming months where companies can sign up for free to learn from world-class sales experts. Some of the training and modules will also be geared toward business operations and inventory management. DPA also recently partnered with a new e-commerce platform to help distributors improve their online sales, content and search engine optimization.