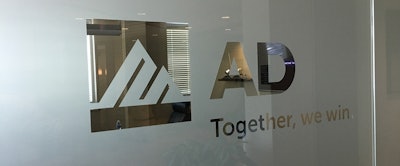 Among the associations, co-operatives and even distributors in the industrial supply market, buying group AD may have the shortest — and simplest — slogan out of everyone. And in a world where slogans are often nothing more than a catchy phrase to create differentiation, the folks at Wayne, PA-based buying/marketing group AD — formerly Affiliated Distributors — work every day to fulfill the three words that accompany its logo: "Together, we win".
While its distributor members are 'independent', AD is all about collaboration. The group's mission is to bring together independent distributors and suppliers to help them better compete in a market often only known for its biggest players.
"Our members and supplier partners are much better off together than we are individually," says Jack Templin, president of AD's Industrial division. "Reinforcing the 'Together, we win' message is an important part of who we are."
AD, which represents $34 billion in member sales across the contractor and industrial products wholesale market, began in 1981 with 48 electrical distributors. Twelve years later it expanded internationally when it formed AD Canada. In 1994 it added AD Industrial when 25 general line industrial distributors joined the group. Over the next 17 years the group added hundreds more distributors and suppliers, through mergers, divisional startups and strategic recruitment.
AD now serves independent distributors across seven industries: bearings & power transmission, building materials, electrical, HVAC, industrial, PVF and plumbing. AD's 600 members span the U.S., Canada and Mexico.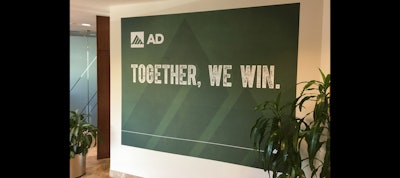 Governance
Ever since the U.S. Great Recession of 2008-2009, the industrial distribution market has seen an unprecedented pace of consolidation and independent distributors overall are finding it more difficult than ever to remain independent. But AD members are faring better than most.
"The independents — as a business model — are doing very well," says AD chairman and CEO Bill Weisberg, who has been with AD since 1983. "They're continuing to outperform the large, national companies as it relates to market share growth in local markets."
There are many buying groups and co-operatives across the industries AD serves. So what makes AD stand out from the rest? Most notable might be how it's governed. Operating as a representative democracy, everything AD does is member-driven. Each of its services — from its rapidly growing eCommerce Initiative, to its HR services, to its Conversion Campaign that helps distributor members and suppliers find target opportunities — were created out of listening to the needs of its membership and giving them a say in the decision-making process.
"How do you take a bunch of independent distributors and facilitate their collaboration? That's what our governance model is all about," Weisberg says. "You can't make all these decisions in an office here in Wayne by yourself. We make sure we hear at the grassroots level what people need and want."
Like with any democracy, AD knows that there's no decision it makes that all its members will agree with — especially given its scale. But by at least hearing everyone out, AD can ensure those decisions are made for the greater good. For example, if AD makes a change in a supplier relationship, its members have contributed to that decision.
"Not only are we making better decisions because we're facilitating our members, but also we get better support for the programs we have," Weisberg says. "Like with anything in life, you're going to have more support for something if you've been heard, even if you don't agree with the final outcome. That's the most important thing I do, is to ensure we have really good governance."
Networking
One of the things AD is best-known for is its structured networking program, which enables distributor members to share best practices and collectively solve common business challenges. AD has taken specific steps to ensure the free flow of open discussion, maximizing the productivity of these network meetings. First, members are placed in networks free of direct competitors. Secondly, members are allowed two non-rotating seats per company. These seats are for senior level decision makers assuring that participants are engaging at the same peer level resulting in productive discussions. This high level of consistency builds familiarity which in turn builds a strong trust that leads to valuable time together.
"It's pretty interesting to see how the dynamics work," says Tom Blue, AD Industrial vice president of member relations and marketing. "The relationships and best practice sharing begin to extend beyond the two meetings in the spring and fall. They call each other when looking for input and in some cases they have visited each other's businesses to talk about ERP systems, warehouse management and leadership development, to name a few topics."
AD's biggest event of the year is the annual North American Meeting, which for the Industrial division is coming up Sept. 17-20, 2017 in Grapevine, TX. Last year's event set a new record with more than 750 attendees, and was the first time it combined with the Bearings & Power Transmission division. Its main focus is creating the best venue and program for members and supplier partners to engage and build productive relationships. With that meeting's September timing, attendees use it both to gear up to finish the year strong and to start making preparations for the next year.
"I see the AD North American Meeting in the fall as the catalyst for driving what goes on throughout the year," Blue says. "Members and suppliers work their plans throughout the year. It serves as a great checkpoint — 'How are we doing?' 'Are we hitting our targets', 'Are there issues?' Then the focus transitions to planning and teeing up opportunities for the next year."
"From the first time I got engaged with the AD North American meeting, it just impressed me," adds AD Industrial vice president of supplier relations Brian Carroll, was previously at an AD supplier for 15 years across three divisions. "The collaborative growth culture resonated. You could feel the energy with the way the members and suppliers worked. That was the one of the attractive things for me coming here."
eCommerce Initiative
Many distributors are trying to figure out how to best optimize their platform to match customer buying habits and wants, while many others — especially small and mid-size companies — are still on the fence about getting involved. For those still skeptical about if the time is right to finally pull the trigger on an eCommerce plan, one may not have to look any further than AD.
Like most of the group's programs, its highly successful eCommerce program started off as a member-led initiative. It originated in 2015 out of the Industrial division as a content service focused on SKU building. Less than three years later, AD now has more than 160 people dedicated specifically to its eCommerce Solutions across five divisions. In 2017 alone, AD will spend close to $7 million on the continuous development of the service, and over $20 million over the next three years.
"We're committed to this and to help our members win in the digital world to be successful online," Templin says. "If anything it has accelerated and we're excited about what it means for the members."
"Our members are in a lot of different stages in that eCommerce journey," Blue adds. "Having the consultative services, the AD eCommerce Summit and being able to network with others in the same boat and not being afraid to speak up and ask the right questions is a big deal for our members."
Suppliers also see direct operational value from AD eCommerce Solutions. Prior to it, suppliers would receive 50 to 60 requests from distributors to fill out spreadsheets and to handle issues regarding taxonomy, features and benefits. Now, those members can just send one comprehensive list to AD, and AD then supplies an eCommerce package. It ends up saving suppliers time in their marketing department from responding to one-off individual requests, and also ensures their branding standards are being met. Similarly, members benefit from receiving current maintained and normalized content for multiple suppliers.
AD also hosted its first multi-divisional eCommerce Summit this past January in Dallas, TX, where more than 230 eCommerce leaders within 140 distributor member organizations were in attendance. The two-day event included keynote speakers, AD member panel discussions and more than 100 one-on-one, "Ask the Expert" sessions led by 15 eCommerce subject matter experts.
A Resource For Independents
Along with its networking events and eCommerce Initiative, AD provides a number of other benefits for its membership. HR Services is another member-driven initiative that rose out of distributors asking AD for advice in recruiting, developing and retaining the next generation of talent to foster company growth.
During 2015-2016 — when many industrial distributors and suppliers suffered large declines in sales as product demand substantially weakened across the market — AD responded by sharpening its market planning process to focus on conversions and creating an opportunity channel. AD's Conversion Campaign helped members on defined target opportunities, with about 80 percent of them at the end-user level. For those that participated, it helped them take market share even if they weren't experiencing sales growth, and it positioned them better for when the economy rebounded. And rebound it has. AD's Industrial and Industrial division members' sales improved 7 percent year-over-year in the first quarter of 2017.
"Our suppliers really embraced it because they saw us bringing real opportunities to them, so you saw a lot of collaborative work to make that happen." Blue says. "That was something different than what we had done in the past."
Looking Ahead
An improving industrial economy will be a major boon for the upcoming AD North American meeting in September, while continued improvements and expansion within the group's overall eCommerce efforts make now a great time for non-AD members to join the network. Not only does partnering with AD help those member distributors, but helps the independent channel altogether.
Templin cites Weisberg saying, "No one wins in an environment in which the distribution channel is consolidated to three or four global players. The end user doesn't win, the supplier doesn't win and certainly the independent distributor doesn't win. It's in the best interest of the distribution channel for the independent to be strong. Part of our role is making sure that voice is heard."
It all goes back to AD's simple slogan — "Together, we win."
"It's more than a slogan," Templin says. "It's what we live around here."