ELM GROVE, WI — STAFDA's recent 40th Annual Convention & Trade Show, November 6-8, in Atlanta, attracted a total of 4,366 people with an 820 booth trade show, STAFDA's largest show since 2008.
Day One featured six educational workshops and one spouse/companion program. The business sessions covered today's trending issues from the new overtime regulations to distributor/manufacturing relations, leadership to concierge customer service, and effective negotiating skills. Two workshop presenters, Dr. Jeanne Hurlbert and Barry Wright, extended their stay through Day Three since they were learning as much from STAFDA members as they hoped attendees learned from them!
Former lron Chef contestant and noted Atlanta chef-turned-restaurateur, Kevin Rathbun, led a cooking demo on easy-to-make holiday hors d'oeuvres along with a Sampling.
The Opening Party that evening was held at the College Football Hall of Fame where eight members of the Atlanta Falcons drumline team performed outside the entrance before attendees came through the opening tunnel into the Quad where they were greeted by the Wall of Helmets — over 765 college football team helmets displayed over three stories high.
STAFDA members could show off their passing and kicking prowess on the first floor, try their hand at countless interactive exhibits on the second floor along with viewing college football trophies, memorabilia, or watching a "Game Day" movie in the Hall's IMAX theater. Histories of coaches, players, and Hall of Fame inductees were displayed in interactive kiosks on the third floor. Food and beverage were plentiful while attendees could also watch Sunday Night Football or browse in the gift shop.
Day Two began with the General Session featuring state of the industry speeches from STAFDA President, Terry Earle of Ft Worth Bolt & Tool (Ft. Worth, TX), and Associate speaker, Brandon Moss of Southwire Co. (Carrollton, GA). Both addressed the labor shortage facing the construction industry and offered innovative insight: Earle spoke of bringing back retired employees to mentor the millennials while Moss talked about
Southwire's "12 tor Life" program which fosters at-risk students to finish high school and learn a trade at the same time. STAFDA's executive director, Georgia Foley, brought members up to speed on key Association developments the past year.
Then it was showtime with STAFDA's two keynote speakers! Former football coaches turned sports commentators, Jimmy Johnson and Herm Edwards, shared their experiences on team work, motivation, and leadership before engaging in a lively Q&A with Terry Earle. Johnson and Edwards' responses were entertaining yet honest, heartfelt, and poignant.
Afterwards, the doors opened to STAFDA's Trade Show and it was a mad rush for distributors to see the latest and greatest from over 35 different product categories for six hours before enjoying an evening of manufacturer hospitality.
Day Three began with economist, Alan Beaulieu's annual forecast for 2O17 and beyond. His forecasts boast a 96 percent accuracy rate and the standing room only crowd exceeded capacity early on in his program,
Afterwards, the Trade Show opened for 5.5 hours where attendees could spend more time at booths or meeting with Tech Fair vendors — STAFDA's largest Fair to date — or visiting one-on one with STAFDA's endorsed consultants and service providers. Meanwhile, spouses/companions had two-day trip options that included a city tour and shopping, or a trip to Madison, GA, for a tour of antebellum mansions.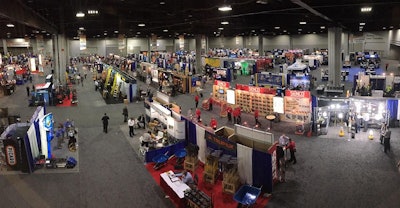 The Convention concluded with a closing Election party where large screens had network coverage of exit polls of the Presidential election.
STAFDA's 2017 Convention & Trade Show will be November 12-14 in Austin, TX. Online registration from the members-only section of STAFDA's website begins June 26.