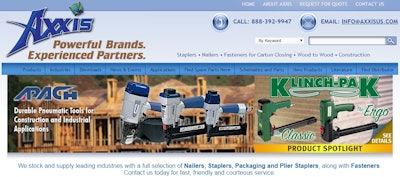 Independent distributor/supplier association DPA Buying group has announced that Schaumburg, IL-based fastener manufacturer and distributor Axxis has joined the group as a new member.
Axxis is a manufacturer and distributor of fastening tools and fasteners for industrial, packaging and wood-to-wood applications. Axxis has developed a lineup of brands including Apach, Klinch-Pak, Josef Kihlberg, Complete, Rapid, Bostitch and Axxis.
Axxis' product range includes a variety of nailers and staplers, tackers, industrial and construction fasteners.