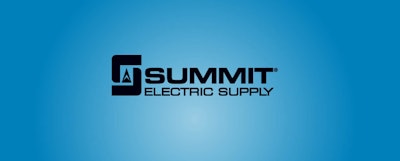 ALBUQUERQUE, NM — Dave Armstrong has been promoted to Vice President of Strategic Sales for Summit Electric Supply. Armstrong joined Summit in 2017 as the Director of Strategic Accounts, where he quickly began growing Summit's business in the industrial sector. In his new role, Armstrong will also assume responsibility for Summit's International Sales, Export and EP&C divisions. He will be based out the company's Houston service center and report to Summit's president, Kevin Powell.
With more than 25 years of experience in the electrical industry, Armstrong has a proven track record in successfully restructuring operations and sales, engaging cross-functional teams to capitalize on sales and market growth opportunities. He holds a Bachelor of Science in Business Administration from the University of Oklahoma.
"Dave has been instrumental in growing Summit's industrial customer base throughout our footprint and beyond," said Powell. "I am very confident that Dave will build on these successes and continue to help Summit achieve new goals around the globe."
Summit Electric Supply is a privately held, independent electrical distributor headquartered in Albuquerque, NM. Founded in 1977, the company operates service centers in 24 U.S. markets and in Dubai, UAE. Summit also has an international sales division and an EP&C division located in Houston, TX, as well as an industrial marine division located in New Orleans, LA. Summit is ranked as the 20th largest electrical distributor in the nation by Modern Distribution Management magazine. For more information, visit us at www.summit.com.