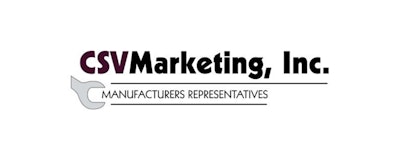 VERMILION, OH — CSV Marketing, Inc., a manufacturers' representative agency offering a diverse array of industrial products, is announcing the appointment of Beck Oberholtzer as regional and marketing manager.
In this position, Oberholtzer's responsibilities include marketing, where he will spearhead the company's website refresh, including an e-commerce component, and digital marketing tactics; sales, where he will work with national accounts and expanding relationships with smaller distributors; and operations, where he will lead the initiative to implement a new CRM system.
Prior to joining CSV Marketing, Oberholtzer worked in the enterprise software industry sector, where he held the position of manager, producer inside sales at Flexera Software.
"By the year 2020, more than 80 percent of business decision makers will be younger than 25 years old, so we recognize that our business is changing with different triggers and ways of connecting," said Bill Via, president of CSV Marketing. "Beck's background and youthfulness will be the genesis for a new way of looking at our business and will be applied to the future of the company."
"I'm thrilled to help lead CSV Marketing in a direction that will address the needs of the changing demographics of our customer base," said Oberholtzer. "As a company, we need to completely understand both our distributors and our end users and the platforms that they are using to find solutions and buy products."
Oberholtzer earned his bachelor's degree in finance from Miami University, Oxford, Ohio. He resides in Vermilion, Ohio, with his wife, Jordan. In his spare time, he enjoys golfing, boating, tennis, landscaping and spending time with family.
About CSV Marketing:
Established in 1991, CSV Marketing, Inc., is a manufacturers' representative agency that offers a diverse array of high-quality, industrial products. The agency focuses on the STAFDA channel, mill supply, fasteners, welding and safety and specialty distributors. With six strategically located offices, CSV Marketing serves the needs of end users in the Great Lakes region. A 13,000-square-foot warehouse streamlines shipments, offering distributors a logistical advantage. For more information, visit CSVMarketing.com