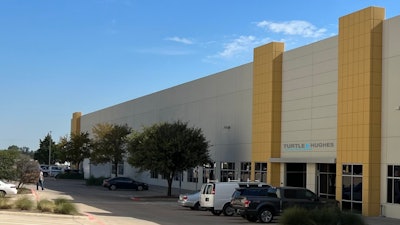 Turtle
CLARK, N.J. — Turtle, one of the nation's largest privately held electrical distributors, has named transformational leader Teesee Murray as its chief strategy officer.
At a time when Turtle is accelerating the transition to sustainable energy by advancing innovative customer solutions, Murray brings C-suite experience as a growth-oriented change-maker with a deep knowledge of technology that includes AI and enterprise automation.
"We are thrilled to welcome Teesee, whose inspirational leadership will fuel our ambitious plans for energy-forward ways to work, move and play," said Jayne Millard, executive chairman of the board and co-CEO of Turtle. "With her attention firmly fixed on fostering innovation through our people, passion and purpose, we will benefit from her strategic strengths in culture-building, customer success and executive alliances as we forge new pathways for our customers in energy transition."
"Teesee's extraordinary background spans more than 25 years of global leadership in distribution, retail, manufacturing, healthcare and financial services. Her breadth of experience brings diversity of thought to the leadership team and aligns with Turtle's customer focus on sustainability in both the public and private sectors," added Luis Valls, Turtle co-CEO.
In her new role, Murray will lead Turtle's transformation strategy. Key areas of focus are innovative solutions, go-to-market initiatives, partner ecosystem, ESG, and Turtle's micro-investment strategy. Murray has a passion and proven track record for building and operating high-performing teams that deliver record-setting results while creating strong relationships.
"I was drawn to Turtle's purpose to 'inspire, enable and accelerate the adoption of smart sustainable solutions.' Now more than ever, we need great teams, like Turtle, using our collective wisdom and commitment to our brand value of Radical Collaboration to solve complex issues and make compelling improvements together," Murray said. "I am immensely proud to be part of this team that is working to solve the greatest challenge of this century."
In its commitment to a net carbon future, Turtle is leveraging its unique marketplace role as an architect of sustainable projects in collaboration with globally respected manufacturers and suppliers. Turtle programs have ranged from New York's Hudson Yards, the largest smart cities project in the U.S.; to infrastructure renovations of major metropolitan airports, rails, bridges, tunnels, and ports; to the redesign of major utilities and the electrical grid.
Murray's career is distinguished by significant growth in technology businesses. Most recently, she was CEO of iGrafx, an equity-backed global firm in business process intelligence. Prior, she was vice president/general manager at Epicor, a $1 billion global enterprise software company, and global vice president for digital and cloud at Infor, a $3 billion, global enterprise software company.
Murray is a member of the Recognize CEO Innovation Network and the Forbes Technology Council. She served as a World Economic Forum Industry Strategy delegate, and was named the first female chair of the Water Commission Board for the city of Santa Barbara, California. She received the 2018 Ones to Watch Award by IDG's CIO and CIO Executive Council.
Murray is a graduate of the MIT Sloan School, Computer Science and AI Lab, AI: Implications for Business Strategy 2018. She received her Bachelor of Arts in Business Economics & Environmental Science from the University of California, Santa Barbara, where she was awarded Senior of the Year.