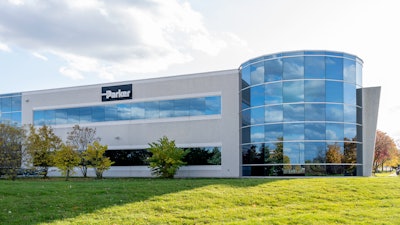 iStock
CLEVELAND – Parker Hannifin Corp., a global leader in motion and control technologies, announced Wednesday that its board of directors has elected Jennifer A. Parmentier, currently chief executive officer and a director, as chairman of the board, effective Jan. 1.
Parmentier will succeed Thomas L. Williams, executive chairman, who will retire on Dec.31 as previously announced.
"We congratulate and look forward to working with Jenny in her expanded role as chairman of the board," said James L. Wainscott, Parker's independent lead director. "Our dual leadership structure, consisting of both a chairman of the board and a separate and independent Lead Director, continues to effectively serve shareholders. We thank Tom for his many years of exemplary service leading our board and leading the company through a period of unprecedented performance and transformation in which we delivered substantial shareholder returns."
"Tom's world-class leadership and achievements set Parker on a remarkably positive trajectory," said Parmentier. "It is an honor to succeed him as chairman of the board, as it was to succeed him as CEO and to have the opportunity to build on that legacy of leadership and success and take our performance to the next level. I appreciate the trust of our board, our senior leadership team, and our global team members as we look ahead to Parker's promising future."
Parmentier became CEO on Jan. 1, 2023. She previously served as chief operating officer starting in 2021 with responsibility for all of Parker's operating groups. Parmentier was vice president and president – Motion Systems Group from 2019 to 2021 and vice president and president – Engineered Materials Group from 2015 to 2019, where she was responsible for all financial and strategic aspects of their global operations. Prior to those roles, since joining Parker in 2008, she held a variety of operational roles, including general manager of the Sporlan Division in the Instrumentation Group, and general manager of the Hose Products Division in the Fluid Connectors Group.
Williams served as CEO from Feb. 1, 2015, through Dec. 31, 2022, and has served as chairman of the board since Jan. 1, 2016. He joined Parker in 2003 and demonstrated successful leadership in two operating groups, first as vice president of operations for the Hydraulics Group and then as president of the Instrumentation Group. He was named operating officer in 2006 with responsibility for Parker's Aerospace, Engineered Materials, Filtration, Instrumentation and Asia Pacific groups.