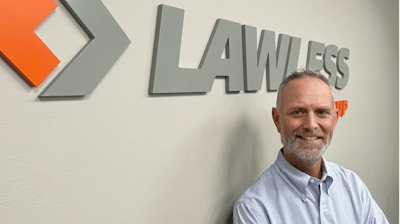 The Lawless Group
DALLAS — The Lawless Group manufacturers representation agency has hired Jay Drummond as president of its industrial & MEP — mechanical, electrical and plumbing — market verticals.
As "Pioneers for Growth," Lawless is always evolving to meet industry needs. This includes the development of market verticals to leverage more sales power. This investment enhances the Lawless Group's commitment to growth and expansion.
With both a manufacturer and distributor background, Drummond brings over 25 years of experience in commercial sales channels. Drummond was previously at Stanley Black & Decker, where he was vice president of sales-industrial, as well as held several other leadership roles across sales, product development and marketing. Prior, he was at New Jersey-based Turtle & Hughes, an electrical and industrial distributor, where he managed suppliers and implemented integrated supply programs.
"I feel like it is a natural next step to use my background and knowledge to deliver value at all levels of the supply chain and am excited to join a growth focused company like the Lawless Group." said Drummond.
In his new role, Drummond will accelerate sales growth for Lawless represented lines in the industrial MRO and MEP channels. He will help identify new opportunities, leading expansion in these market verticals. His responsibilities will be to collaborate with the Lawless Group regions and corporate team to maximize vertical strategies and opportunities and build market intelligence and expertise for all Lawless regions, customers and end users. In tandem with the corporate marketing team, he will help develop resources and educational training to provide greater capabilities for our customers.
"Jay's familiarity with end users, distributors, manufacturers, as well as, buying groups in the channel, make him uniquely qualified to help us grow and exceed the expectations of all our partners," said Lawless CEO Jack Templin.