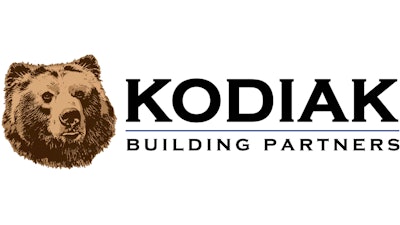 HIGHLANDS RANCH, Colo. — Kodiak Building Partners, a leading distributor of lumber and building materials products, announced Monday that Bret Kelly has been named senior vice president of Kodiak's northeast general lumber division.
Kelly will oversee operations at Goodrich Lumber, New England Building Supply, Ricci Lumber and Shepley Wood Products, and will report to Pat Flood, executive vice president of operations.
Kelly has 30 years of senior management experience, including two decades of regional and area management at both local and national lumber and building materials suppliers and distributors, most recently as director of business development at Griffin Lumber & Hardware. Prior to that, Kelly served as the turnkey framing manager of Building Materials & Construction Solutions and various management positions of increasing responsibility at 84 Lumber.
"Bret is the right leader for Kodiak's northeast general lumber division," said Flood. "His extensive LBM industry background and business development skills will help Kodiak and our local operating companies strengthen channel partnerships, develop strategic alliances, and expand our regional sales presence."
"I am excited to join the Kodiak team," said Kelly. "Kodiak has a great business model and a talented management team that uniquely positions itself to capitalize on the changing LBM and construction industry environment."
As director of business development at Griffin Lumber & Hardware, Kelly successfully led the company's expansion initiatives, significantly growing annual revenues and guiding them through multiple acquisitions and greenfield projects, leading to several awards and industry recognition. Before working at Griffin and BMC, Kelly held several management positions at 84 Lumber since 2007 where he was responsible for strategic direction and operations of the Greater Atlanta area in Georgia, Eastern Tennessee, and the Washington D.C. area. Kelly had previously been with 84 Lumber since 1993 where he held several positions including director of installed sales for the company, as well as several general and regional manager positions throughout the Northeast U.S.