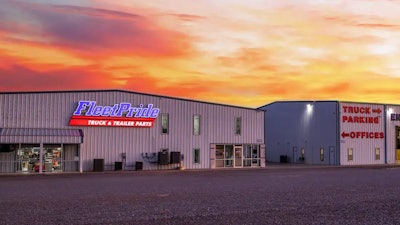 FleetPride
IRVING, Texas — FleetPride Inc., the nation's largest distributor of truck and trailer parts and service provider in the independent heavy duty aftermarket, announced the appointment of Kevin Weadick as chief executive officer.
In a planned transition, Weadick will succeed Mike Duffy, who will serve as executive chairman and lead the board of directors. Both appointments are effective April 10.
Weadick is a seasoned executive with over two decades of experience leading digital transformations, industrial product management and marketing teams, large-scale legacy system replacements, supply chains, and M&A integrations.
"It gives me great pleasure to welcome Kevin to FleetPride as we enter the next phase of the company's evolution and growth," said Duffy. "As we continue to accelerate our digital transformation, Kevin's strong track record of success leading technology and operations functions will be critical in driving innovation, and executing our long-term growth strategy for FleetPride as we continue to lead as the nation's largest distributor of truck and trailer parts and service in the independent heavy duty aftermarket."
"I am honored to have the opportunity to join the team at FleetPride and look forward to helping the business execute its long-term growth strategy and achieve its aspiration to keep the country running," said Weadick.
Weadick boasts a long-standing professional career. Most recently he served as president of Zoro.com, a subsidiary of W.W. Grainger Inc., where he more than doubled the e-commerce business to over $1 billion in revenue, developed an outstanding customer-focused team, and drove Zoro's culture, which has been recognized with multiple workplace awards.
READ: Zoro President Steps Down
Weadick previously served as vice president, supply chain and marketing for Grainger Europe, where he was responsible for leading both functions. Weadick also served as VP Americas SAP, and VP product management for Grainger Canada. Earlier in his career, Weadick held several roles of increasing responsibility across Grainger's North American supply chain.