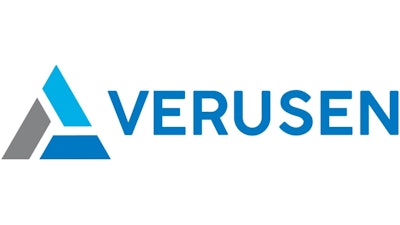 ATLANTA — Verusen, an AI-powered supply chain materials intelligence leader, announced that Scott Matthews, former CEO of MRP and CrowdTwist, is joining Verusen as chief executive officer and board director.
Matthews joins Verusen to lead day-to-day operations alongside founder Paul Noble, who will transition to the position of chief strategy officer.
Verusen delivers materials intelligence to help customers, including ABinBev, Georgia Pacific and many Fortune 500 manufacturers, gain greater visibility and control into their supply chain materials data. Verusen's customers have generated hundreds of millions of dollars in savings opportunities and working capital reductions by leveraging the platform.
With the appointment of Matthews, Verusen will expand its materials intelligence vision beyond reaching manufacturers to include building systems directly with suppliers and serving as the connective tissue between the two.
"I'm thrilled to join Verusen and help develop new growth cycles for our customers," said Matthews. "It's an exciting period in the company's lifespan. Paul launched Verusen with a disruptive AI platform that delivers results-driven materials intelligence and provides measurable benefits to our supply chain customers, impacting their bottom line. Due to the high demand for Verusen's platform, the company is well-positioned for accelerated growth. I look forward to partnering closely with Paul, the senior management team, board members, and the entire Verusen sales and marketing operation to take the company to the next level of growth."
Scott brings 16 years of leadership experience to Verusen. Previously, Scott was CEO of MRP, the Philadelphia-based global provider of predictive customer acquisition software and services. Before joining MRP, Scott was CEO of CrowdTwist Inc. for four years. Scott successfully negotiated multimillion-dollar contracts with Fortune 500 accounts while repositioning the go-to-market strategy for CrowdTwist's customer loyalty SaaS solution. During Scott's tenure, the company rapidly scaled sales achieving 728% overall revenue growth, delivered strong business performance, and was acquired by Oracle in a multimillion-dollar deal in 2019. Earlier, Scott held senior-level roles in technology, sales, and SaaS companies.
"Great teams are built when you add people with complementary skill sets," said Noble. "Scott levels up our ability to serve our customers as we continue to transform the industry. We are excited to join forces and accelerate the company's reach, building trusted networks and connecting companies with their suppliers. Scott will oversee Verusen's daily operations and GTM strategies. Together, we will work to drive additional growth for Verusen. I will continue to focus on our company vision and strategy as we expand and serve all our customers across their global operations."
"As a first capital-in investor in Verusen, I am excited to have Scott join Paul and the Verusen team to build on Verusen's momentum and expand the customer reach of its revolutionary platform," said Rudina Seseri, founder and managing partner at Glasswing Ventures and Verusen board member. "Having worked with Scott at CrowdTwist, where I was an investor and board director, I have seen first-hand his proven successes in driving revenue streams. Scott is the ideal candidate to help the company rapidly scale to meet increased customer demand."
As founder and CEO of Verusen over the past seven years, Paul Noble defined a new era in the supply chain by delivering materials management intelligence to create a more trusted, resilient, and sustainable supply network. He led the company to 10X growth since its launch. The company notched an $8 million Series A investment in 2021 and an additional $25 million Series B funding in 2022, for a total of $39.1M raised to date. In addition, he expanded the company's product line to over 20 countries and moved the team to its "Supply Chain City" Atlanta headquarters.