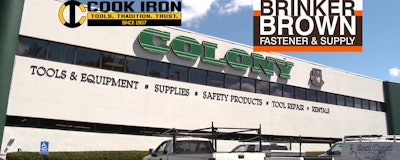 Per letters to its vendors, Orange, CT-based Colony Hardware Corporation announced two acquisitions last week, purchasing Brinker Brown Fastener & Supply, and Cook Iron Store.
Colony — a distributor of tools, equipment, fasteners, supplies and safety products, as well as rental and repair services — to commercial construction and industrial accounts — said it acquired Fort Myers, FL-based Brinker Brown Fastener & Supply in a transaction completed April 30. Founded in 1985, Brinker Brown is a southwest Florida distributor of fasteners, power tools, construction supplies, and generators. It has a second Florida location in Naples.
Twin Brook Capital Partners, a middle market direct lending subsidiary of Angelo, Gordon served as administrative agent of $117 million of financing that supported the acquisition.
Colony said it purchased Cook Iron Store — which encompasses Cook Iron Store Company Inc., Heavy Duty Store.com, Flower City Wiper and Safety First — in a transaction completed April 27. Founded in 1907 and based in Rochester, NY, Cook Iron Store is a distributor of construction, MRO, shop rags, safety and first aid products to contractors and manufacturers.
The additions follow Colony's previously-announced acquisition of Lake Worth, FL-based Allied Fastener & Tool this past February.