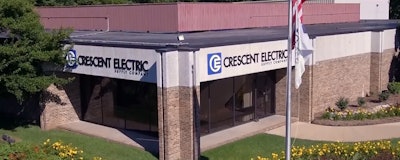 EAST DUBUQUE, IL — Crescent Electric Supply Company celebrated the start of its 100th year in business on April 15 with catered lunches and anniversary cakes at each of the company's 160 locations. The privately-held company was founded in 1919 by Titus Schmid in Dubuque, IA and is still family owned today.
From that single location in Dubuque, the company is now the eight largest electrical distributor in the U.S. with more than 2,000 employees and annual revenue in excess of $1 billion.
Crescent's Industrial products segment was ranked No. 43 on Industrial Distribution's 2017 Big 50 List with $218 million in 2017 sales.
Crescent Electric Supply Company serves contractors, commercial, institutional and industrial customers with a broad line of electrical, lighting, industrial, automation and datacomm products. In addition to the Crescent Electric brand, customers are served by BA Supply in Missouri, Interstate Electric Supply in Idaho, Stoneway Electric in Washington, Oregon and Idaho, MESCO Electrical in Ohio and Womack Electric in Virginia and North Carolina.