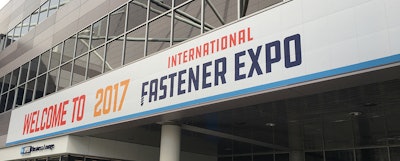 LOS ANGELES — The International Fastener Expo (IFE), first established in 1981 and holding consecutive events for more than three decades, has secured the Mandalay Bay Convention Center for its annual prestigious event, through 2020.
IFE 2018: October 30 - November 1
IFE 2019: September 17 - 19
IFE 2020: September 28 - 30
Event organizer Emerald Expositions has leveraged decades of relationship-building to secure the Las Vegas dates for an unprecedented multi-year contract, allowing the Fastener industry to plan future travel and schedules around the event. "Securing the right venue at such an ideal time, multiple years ahead is very challenging in Las Vegas," said Karalynn Sprouse, Executive Vice President of Emerald Expositions. "We know how important commitment and planning is to the fastener industry and this move enables us to produce the largest marketplace gathering for the 38th and 39th year in a row, with room for continued growth!"
2019 and 2020 will continue with the two-and-a-half-day schedule, allowing exhibitors a chance to set up their own booths and the extra time to attend a "Preview Day" with early, private access to connect with global source and machinery & tooling vendors.
For information, or to book your participation at IFE 2018, visit www.fastenershows.com.