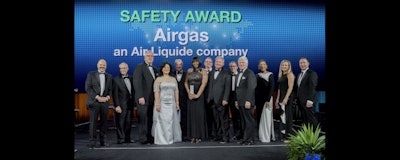 RADNOR, PA — Airgas, an Air Liquide company, has been recognized as Supplier of the Year in the Safety category by The Boeing Company. Airgas was one of 13 companies honored on April 11 for distinguished performance in working with Boeing. As the award recipient in the Safety category, Airgas is being recognized for modeling a zero-injury mindset, investing in and implementing a formal, measurable safety program.
In February, Airgas was notified that it received the Boeing Performance Excellence Award, given to 411 companies for performance excellence. To further acknowledge superior performance, Airgas was one of only 13 companies from that group to be honored with the Supplier of the Year designation, labeling this class of winners as best of the best.
This year's recipients represent an elite group among 13,000 active Boeing suppliers in 57 countries around the world. This selection was based on stringent performance criteria for quality performance, delivery performance, cost, environmental initiatives, customer service and technical expertise.
Airgas has been a supplier to Boeing for more than 25 years and provides industrial gases, welding hardgoods, safety products, and dry ice to support key projects across the full enterprise.
Pascal Vinet, Airgas CEO, commented: "It is a true honor to receive this exceptional recognition from Boeing, particularly in the Safety category, as the safety of our customers and associates is core to our business and company culture. We are proud of our work together with Boeing to prioritize areas of improvement for injury reduction via the deployment of unique safety solutions developed by Airgas."
Jenette Ramos, Boeing senior vice president of Supply Chain & Operations, added: "Boeing's success in 2017 is a direct reflection of our partnership with top-performing suppliers to generate value for our global customers. We will continue to work together with creativity, passion and innovation to provide our customers a competitive edge through our stellar products and services."
Airgas was No. 5 on Industrial Distribution's 2017 Big 50 List.