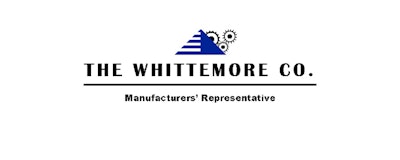 CHICAGO — The Whittemore Co. recently announced it has expanded its territory coverage to include the states of Kansas and Missouri.
Whittemore is a manufacturers' representative agency serving the upper Midwest for since 1918. The Whittemore Co.'s product focus includes Metal Cutting Tools, Broaching, Gauging, Workholding, Part Marking and Managing Swarf.
Whittemore is looking forward to serving its new customers in Kansas and Missouri with the following world-class manufacturers: Automator America, Inc., Forkardt, Kingsford Broach & Tool, Inc., Kurt Engineering Systems, Kurt Industrial Products, Mayfran International, Pratt Burnerd America, Speedgrip Chuck, Inc.
To coincide with this expansion, Whittemore has hired a new sales & applications engineer. Brandon Crocker has joined the company effective Jan. 1. Crocker has a strong background in manufacturing with experience in industrial distribution, tooling manufacturers, and most recently in workholding. Crocker's contact information is below.
The Whittemore Co.
Brandon Crocker
402.321.4942
brandon@whittemore-inc.com
The Whittemore Co. — celebrating 100 years of service throughout 2018 — has a long-established history in technical applications for the metalworking industries and OEM manufacturers.