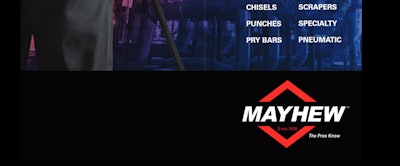 TURNERS FALLS, MA — Mayhew Steel Products (Mayhew Tools) has announced that Eric Mills has rejoined the company as Vice President of Sales & Marketing. In this role, Mills will be responsible for growing Mayhew's sales and sustaining a high-level of customer satisfaction. Mills previously served Mayhew Tools as Vice President of Sales & Marketing from 1994 through 2002, before rejoining the company this year.
As Vice President of Sales & Marketing, Mills will focus on identifying new sales targets while simultaneously developing and executing strategic sales and marketing plans to elevate the company's brand visibility. In addition to managing the sales and marketing teams, he will also provide the leadership necessary to promote a positive team atmosphere and culture. Mayhew Tools, founded in 1856, continues to embody a 160-year heritage that is just as dedicated to its American roots, as it is to quality, reliability, and craftsmanship.
"We are very pleased to have Eric back at Mayhew," shared John Lawless, President, Mayhew Tools. "Given his prior expertise with our company and products and his demonstrated perseverance we are very much looking forward to having him hit the ground running to expand existing and new sales channels for our company."
Mills added, "I am enthusiastic to be working with the Mayhew team again and eager to expand our sales efforts in a way that benefits the company as well as the customer. More specifically, I am excited to be playing a role in delivering new products to market that are already in development."
Before rejoining Mayhew Tools, Mills served as the Vice President & General Manager for Greater Boston's Tractel, Ltd. Prior to that, he served as Vice President Sales & Marketing for Guardair Corporation and Director of Sales for Streamlight, Inc. Mills holds a B.S. from Westfield State College.
Mayhew Tools, founded in 1856, is an ISO 9001-certified company and the oldest punch and chisel manufacturer in the U.S. Mayhew Tools are sold through an extensive network of global distributors, primarily serving the industrial, automotive, and hardware markets. For more information, contact Mayhew Tools at 800.872.0037 or visit mayhew.com.