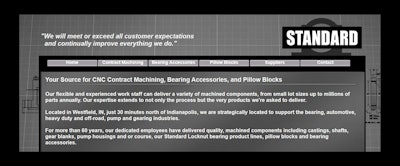 WESTFIELD, IN — David White has joined Standard Locknut LLC as Vice President of Sales and Marketing. In this role, White will drive Standard Locknut's strategic product and market expansion while enhancing OEM and Distribution relationships. White will also promote the integration advantages of both Standard Locknut and Miether product lines.
Previously, White served as NTN Bearing Corporation's Director of Industrial Marketing. While there, he accelerated growth through product development and broadened brand presence in the aftermarket. Both experiences will serve Standard Locknut's 2017 strategic direction and beyond. White also served as Timken's General Manager for global industrial services and Director of Sales and Marketing in India.
"We're very fortunate to have David join the Standard Locknut team and look forward to his contributions to our growth initiatives," said Kevin L. Herkner, Standard Locknut's President and COO. "His 25 years of industry experience will help drive significant growth and deliver improved business performance."
Preceding his working career, David earned his MBA from Case Western and his BS in Mechanical Engineering degree from Virginia Tech.