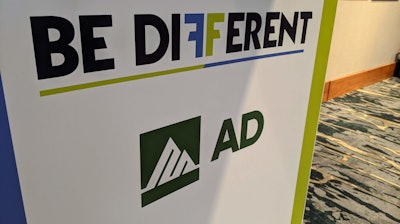 Andy Szal/Industrial Distribution
AURORA, Colo. — Affiliated Distributors on Wednesday named Martin Supply and Surface Prep as its industrial members of the year, while Apex Tool Group and Walter Surface Technologies were honored as the buying group's industrial suppliers of the year.
Martin and Apex were selected from the group's larger Tier 2 industrial and safety members during the "Spirit of Independence Awards" dinner at AD's 2023 Industrial and Safety-U.S. North American Meeting outside Denver. Surface Prep and Walter represented smaller companies in Tier 1.
Officials from Martin, the Florence, Alabama-based industrial and construction supply distributor — no. 44 on ID's most recent Big 50 — told the audience that the company recognizes that "we don't do this alone," particularly highlighting its supplier partners in the room.
"This award, while it has our name on it, really represents everybody," Martin co-CEO David Ruggles said.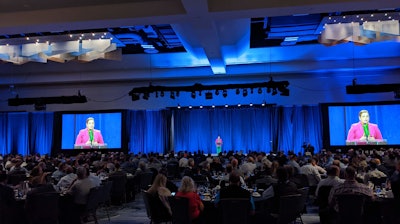 AD's safety network division, meanwhile, named Würth Group subsidiary Northern Safety and Industrial as its Tier 2 member of the year and Alabama Safety Products as Tier 1 member of the year; Ergodyne and Acme United Corp. were named safety network suppliers of the year for Tier 2 and Tier 1, respectively.
The buying group also highlighted the largest conversions to AD suppliers across five product categories: Magid and 3M in safety, General Factory Supply and PIP in industrial, Replenex and 3M in MRO, Turner Supply and SECO in metalworking, and P&I Supply and Stanley Black & Decker in tools and material handling.
Border States and Premier Safety were recognized for their planning processes, while CBT Company, GME Supply, AHB Tooling and Safety Products Inc. received awards for their respective workplace cultures.
Vallen product marketing leader Alexis Miller and Guardian Sales and Safety sales manager Austin Maly were given AD's "MVP" awards for the industrial and safety and safety network divisions, and Stauffer Glove and Safety received the group's "Giving Back" award.
The AD meeting's conference portion is set to kick off Thursday and continue through Friday morning. Thursday's program also includes the AD women's community network reception in the evening.