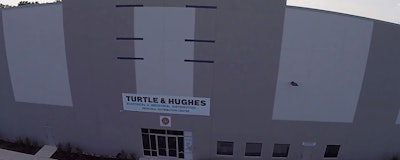 LINDEN, NJ — Turtle & Hughes has opened a new 45,760-square-foot regional distribution center (RDC) to support daily delivery to the five boroughs of New York City. It is located at 266 Old New Brunswick Road in Piscataway, NJ, (732-412-3001).
The new state-of-the-art warehouse operates thanks to the hard work of close to 35 full-time IBEW Local No. 3 Union employees and a management staff of five. "Our roots go back 95 years when we first opened our doors in Lower Manhattan," explains Luis Valls, President, Turtle & Hughes Electrical Division, who narrates a company video celebrating the RDC opening.
Valls continues, "We are proud to be members of the IBEW Local No. 3 Union and view our partners as essential to fulfill our promise of same or next day on-time delivery to the New York City market. This new center expands our New Jersey warehouse space and includes many technical upgrades, allowing us to consistently provide one of the industry's highest product fill and delivery accuracy rates."
The RDC has 36-foot high ceilings, 11 dock doors, a large 21-foot wide drive-in door, and a 2,990 square foot mezzanine level. It houses over 9,000 SKUs of premier electrical and industrial materials, including a large indoor pipe yard and spacious wire room. Turtle & Hughes also maintains a Central Distribution Center (CDC) in Bridgewater, NJ, with an additional 30,000 SKUs and recently launched a robust e-commerce site with over 350,000 SKUs.
Turtle & Hughes has provided material and value-added services to many high profile projects in New York City, including the current LaGuardia Airport Redevelopment, Hudson Yards Construction, Second Avenue Subway Extension, and the World Trade Center Reconstruction project, among others. For more information about delivery to your New York City job site, contact Michael Card, RDC General Manager, at 732-412-3001.
About Turtle & Hughes
Turtle & Hughes, established in 1923, is an electrical and industrial distribution company serving the industrial, construction, commercial, electrical contracting, export and utility markets. It is woman-owned, family-owned and employee-owned, and ranks among the nation's top 20 electrical distribution companies. It is headquartered in Linden, NJ, with branch offices in: Linden, Bridgewater, Plainfield, Pleasantville and Whippany, NJ; Commack, Manhattan and Newburgh, NY; Houston and Port Lavaca, TX; Milford, CT; Levittown, PA; Los Angeles, Huntington Beach and Ontario, CA; Randolph, MA; and Geismar, LA. Turtle & Hughes Integrated Supply (THIS), a division of Turtle & Hughes, services Fortune 100 companies in the growing integrated supply market. It is headquartered in Hamden, CT, and operates nationwide, and in Canada, Puerto Rico and Mexico. It has been widely recognized as one of the industry leaders in providing world-class integrated supply programs.