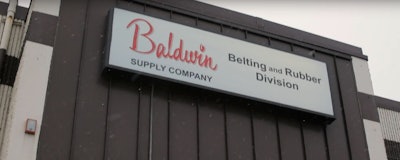 MINNEAPOLIS, MN — Baldwin Supply Company, an independent supplier of power transmission, automation, conveyor belt, and other industrial products, has announced its expansion into eastern Wisconsin with the opening of a 12,000-square foot facility outside of Appleton. The facility, located at W6390 Quality Drive in Greenville, WI, is the company's 10th location in the Upper Midwest and will serve a number of communities in eastern Wisconsin, including the Fox Cities of Appleton, Kaukauna, Menasha and Neenah.
The new facility includes 2,000-square feet of office space dedicated to branch operations and customer service. The additional 10,000-square feet includes Baldwin's second full-service belt shop, which is equipped with state-of-the-art equipment, including a high frequency welder, a ply splitter, multiple slitters, an automatic grinding/v-guiding/sidewall machine, multiple air-cooled presses, and a field install vehicle. With this full-service belt shop, the facility is uniquely equipped to handle customers in the food service, paper converting, corrugate, and equipment manufacturing industries.
"We are always looking for ways to strengthen the partnerships we have with our customers. As our market share has grown in the Fox River Valley, we felt that a locally based facility would allow us to bring greater value to our customers and further our growth in Wisconsin," said Adam Schillinger, regional manager for Baldwin Supply Company. "The Fox River Valley is a thriving industrial area with great people, great companies, and a great culture. We're excited to be a part of it."
Schillinger added that lightweight belt and other fabricated and di-cut rubber products are a growing segment of Baldwin's product mix, and the addition of a second full-service belt shop will allow the company to better serve that segment. The company's other belt shop is in Minneapolis.
Like its other locations, Baldwin's Appleton facility serves a number of industries, including aggregate and mining, food and beverage, agriculture, poultry, packaging equipment, power generation, industrial conveyors, and more. The facility sells and services a wide variety of components and parts including mounted and unmounted bearings, electric motors and controls, chains, sprockets, drive belts, clutches and brakes, shaft couplings, conveyor belts, hoses, and more from such brand names as ABB, Baldor, Dodge, Fenner Dunlop, Gates, Habasit, Mitsubishi Electric, PPI, Siemens, Toshiba, and US Tsubaki to name a few.
Baldwin is currently hiring belt fabricators and customer service and outside sales representatives for its Appleton location. Interested individuals can visit www.baldwinsupply.com to learn more.
Founded in 1920, Baldwin Supply Company has 10 locations.