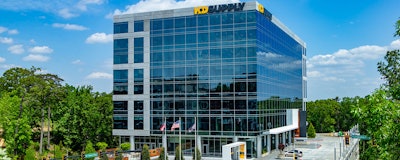 On May 17, HD Supply hosted a ribbon-cutting ceremony for the official opening of the company's new headquarters and leadership development center in Atlanta. The eight-story, 222,500-square-foot building is located about a half mile from the company's previous headquarters location.
HD Supply — No. 4 on Industrial Distribution's 2017 Big 50 List — officially moved into the building in mid-April. Thursday's ribbon-cutting ceremony brought company associates, board members and site construction partners from Greenstone Properties, Colliers International, Holder Construction, Shell McElroy Construction, Wakefield Beasley & Associates, HLGstudio, Office Creations and Zio, as well as local City of Atlanta and Cobb County officials.
The new site — located at 3400 Cumberland Boulevard SE in Atlanta — took one year of planning and two years of construction to complete, first breaking ground in June 2016. It includes six levels of underground parking, 85 collaboration spaces outfitted with technology and more than 30 additional non-tech collaboration spaces.
The building has space for 1,000 employees, while there are currently are about 550 employees there as new hires are regularly being brought on.
Overall, the new headquarters cost approximately $100 million.
"The official opening of our new home celebrates an exciting milestone in HD Supply's history and a monumental investment in our future," the company stated.
Amenities throughout the building include:
State-of-the-art collaboration-centric technology throughout all work and conference spaces
Variety of huddle and non-traditional meeting spaces throughout each office floor to encourage cross-functional collaboration
6,500-square-foot multipurpose event space complete with stage, full a/v capabilities and capacity for up to 500
Counter-service restaurant serving breakfast and lunch
Specialty coffee bar
Fully outfitted fitness studio and locker rooms
The building is LEED Silver certified and includes the following sustainability features:
LED motion controlled lights throughout the building
Advance heating and cooling control system
6 electric-vehicle charging stations
Bike racks for 20 bikes
Single stream recycling program
Water efficient plumbing fixtures
As of May, HD Supply has approximately 220 branch locations, 44 distribution centers and 11,000 associated across the U.S. and Canada.