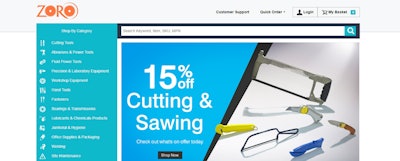 MRO products distribution giant Grainger — No. 2 on Industrial Distribution's Big 50 List — on Monday announced a new addition to its online offerings with the launch of Zoro UK, a new e-commerce MRO supply source for the UK market. 
Announced through Grainger's London-based subsidiary Cromwell — which the company acquired in 2015 for $482 million — www.zoro.co.uk will serve UK businesses and consumers as an online-only store that caters to an industrial products buying market that continues to move toward a preference for online ordering.
"Zoro UK will make it quick and easy for all industries, professions and trades, as well as general consumers, to get the tools and equipment they need," Cromwell said in Monday's press release. "Zoro's extensive online range includes everything from power tools and chemicals to personal protective equipment (PPE), from all the leading brands. In addition, Zoro aims to offer great prices, fast, friendly and reliable service with the convenience of online shopping."
Zoro UK joins MonotaRO (Japan) and Zoro (U.S.) as an offering in Grainger's single-channel online business. In June of 2017, Grainger launched Gamut.com as a 'Research and Development' website that is separate from Grainger.com and aimed specifically to let customers quickly find products.
As Grainger's latest online offering, Zoro UK matches Grainger chief executive DG Macpherson's March 2017 comments saying he expects 80 percent of the company's overall sales to happen online by 2020. That figure was 41 percent for full-year 2015 and jumped to 60 percent in 2016. Grainger reports its 2017 fourth quarter and full year financial results on Jan. 24.
"We are extremely pleased to announce this new venture, which will bring an innovative buying experience to the UK market," said David Rawlinson, vice president and president of Grainger's Global Online Business. "Grainger is the leading multi-channel MRO distributor in the U.S., and we are taking the expertise of Grainger in product knowledge, service and support, and applying it to an online-only model that appeals to many of our UK customers who are looking for the right product delivered at the right time to get the job done."