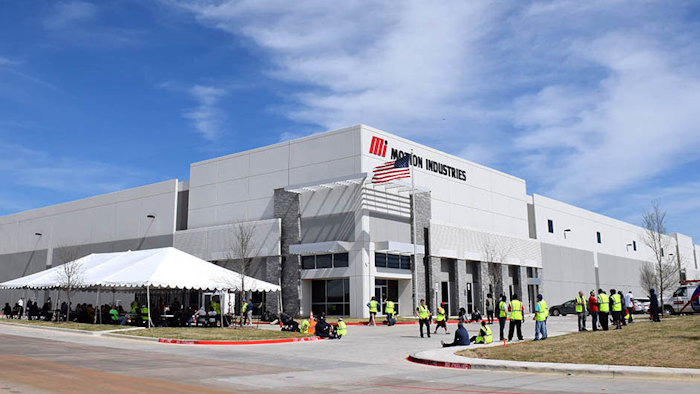 BIRMINGHAM, AL — Motion Industries, Inc., a distributor of maintenance, repair, and operation replacement parts and a wholly owned subsidiary of Genuine Parts Company, announces the successful move to its newly built distribution center at 200 W. Trinity Boulevard in Grand Prairie, TX in the center of the DFW Metroplex. Managed by Dan Krska, the new facility is less than a half mile off of a major highway, close to LTL carriers, and close to both of the area's major airports.
"The increase in square footage allows for a deeper and broader array of product offering for our customers. In addition, the state-of-the art material handling equipment will ensure timely and accurate order processing," said Joe Limbaugh, Motion Industries Vice President, Operations/Distribution/Properties. "In addition to being efficient, the new distribution center is simply beautiful. It showcases the Mi Workplace commercial design standards in the offices, conversion shop and warehouse."
Motion Industries is No. 8 on Industrial Distribution's Big 50 List.
Krska added, "Our relocation weekend was a great success due to the preparation, leadership, and execution of the game plan. The folks really grasped the concept and embraced the task. I was truly humbled to watch 150 Motion employees, with the help of contracted labor, all work together to finish ahead of schedule. Once again, it proves why I am proud of this company."
The new DC officially started operation on March 5, at the end of the relocation weekend. Brand new hanging and roller conveyor lines, as well as a bevy of forklifts, efficiently move product orders throughout the warehouse portion of the 156,000 square foot facility, which nets the company almost 50,000 square feet over the previous location. The increased number of shelves and docks within this expanded footage allows for greater inventory breadth and depth, as well as faster picking and delivery to customers. This DC houses approximately 50,000 SKUs.
"In addition to the availability of more product, the Motion Industries branches will have access to a facility that is designed for on-site customer interaction. Spacious conference rooms, Red Zone tour paths and a Motion Experience Center are part of the design," said Mr. Limbaugh. The Dallas DC serves 65 Motion Industries branches on a daily basis, and serves more than 530 locations company-wide across North America.
"This new and expanded DC is an impactful asset that provides added opportunity for Motion Industries branch team members, especially those in the Southwest Group, to offer and deliver better customer service than ever before," said Richard Burmester, Senior Vice President and Group Executive of Motion Industries' Southwest Division.
The two-story office also includes distribution center offices, Motion's Southwest division offices, a full-scale branch with retail space, an EIS (another wholly owned subsidiary of Genuine Parts Company) warehouse/sales operation, and an enhanced showcase area for visitors.
The DC also houses a build shop, which offers fluid power conversion, gearbox assembly, cut rails and shafting, and valve assembly. The Motion team plans expand shop capabilities by adding a bore-to-size lathe and increased shafting and rail stock.
In addition to this facility in the Lone Star State, Motion operates other major North American distribution centers in Birmingham, AL; Tracy, CA; Chicago, IL; Baltimore, MD; Edmonton, Alberta; and Lachine, Quebec.