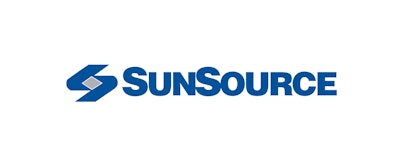 ADDISON, IL — SunSource, one of North America's largest value-added fluid power distribution companies, announced Tuesday that Justin Jacobi will transition from his role as Chief Executive Officer to become the Company's Executive Chairman. David Sacher, the Company's President and Chief Operating Officer, has been promoted to Chief Executive Officer.
"It has been an honor to lead SunSource and its great people over the last 16 years, and I am very proud of the success and growth we have achieved during this time, transforming SunSource into one of the leading value-added industrial distributors in North America," said Jacobi.
As Executive Chairman, Jacobi will focus on SunSource's strategic growth initiatives, including strategic acquisition planning and new technology initiatives. In addition, he will continue to work with Sacher and SunSource's executive management team on key customer and strategic supplier relationships as well as the development of SunSource's next generation of leaders through the company's Leadership Institute.
Sacher added, "I am excited for the opportunity to lead SunSource as we continue to evolve and grow in our capabilities to serve all of the Company's stakeholders.  I am confident in our ability to capitalize on our tremendous potential."
Tony Miranda, Managing Director of Littlejohn & Co., LLC and a member of SunSource's Board of Directors, further added, "We expect David's transition to Chief Executive Officer will be seamless, as Justin and he have worked together very closely for many years. David's experience and leadership ability make him the right person to lead SunSource and its people in this next chapter of the Company's journey, and we look forward to working with him and the rest of SunSource's talented leadership team."
Sacher began his career at SunSource in 2002 as Vice President of Business Development.  In 2003, he was named Executive Vice President and Chief Operations Officer, and in 2009 was promoted to President and Chief Operating Officer. Sacher holds a Bachelor of Science degree in Mechanical Engineering from Lehigh University.