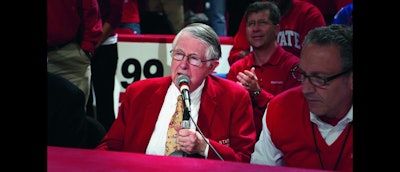 Clyde Alvin Dillon Jr., who everyone knew as C.A., the legendary former president of Dillon Supply Company and longtime basketball public address announcer for North Carolina State University, died on Feb. 16 at the age of 91.
Dillon Supply, a distributor of construction, industrial, safety and steel supplies was co-founded in Raleigh, NC in 1914 by C.A.'s father and brother, G.L. Dillon. As a youngster, C.A. worked summers in Dillon Supply's warehouse and shipping areas, gradually learning all facets of the business. After graduating from N.C. State with a degree in mechanical engineering, C.A. joined Dillon Supply Company in January, 1947 where he spent his entire career, retiring as president at the age of 65 in 1990.
When he became president, C.A. emphasized the importance of customer service. He had a company telephone extension installed at his home to get calls from customers who needed supplies on an emergency basis, often opening up his warehouse at midnight or in the early morning hours.
In an interview after his retirement Dillon reflected on his career. "We tried to be honest and fair in everything we said and did here at Dillon Supply," he said, adding that he wanted the company's legacy to be its focus on customer service.
Dillon Supply achieved numerous awards over the years, including some from Industrial Distribution magazine. His company was recognized as a one-stop shopping resource providing MRO products, services and technical expertise.
Dillon Supply, with 27 locations in seven states, was sold in 1979 to the huge French industrial, steel and safety company, Descours and Caboud — No. 11 on ID's Big 50 List. In 2014, Dillon Supply, a subsidiary of D&C, purchased the assets of Brammer Safety Supply Inc., a Lynchburg, VA-based safety distribution supplier with seven locations. D&C currently has more than 560 locations throughout Europe and North America,
"C.A. was such a nice guy," said Skip DeVilling, who called on Dillon Supply while working for a cutting tool manufacturer. "He was a decent, hard working person who served as a mentor for many people. He was a good friend to so many in our industry."
DeVilling, who now runs an executive search firm for the distribution and manufacturing sectors, said Dillon will be remembered as a leader who treated both customers and employees with respect.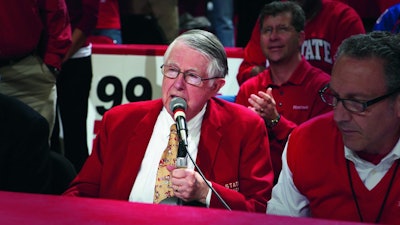 ID interviewed Dillon several times over the years and he was always good for a quote, never shying away from answering a question and always crediting his employees for the company's success. As much as he loved Dillon Supply and the distribution business, C.A. loved North Carolina athletics.
For 53 years, in four different buildings, Dillon, with his deep baritone voice, was always behind the mike at North Carolina basketball games. He started while still a student in 1946, when the team played in 2,500-seat Frank Thompson Gymnasium and went with the team when the size of the crowds dictated games be moved to the old Raleigh Memorial Auditorium.
Dillon, whose red blazer was his trademark, became such a fixture that he missed only two games until 1985 — one for his honeymoon and the other for the death of his mother.
The Charlotte Observer News reported that Dillon, as a P.A. announcer, made a meticulous study of players' names, meeting with coaches on opposing squads to double-check the tougher ones, notably Bill "Boots" Simonovich of Minnesota.
He also served as announcer for football games at Carter-Finley Stadium from 1970 to 1999 and lent his voice to many radio broadcasts, including when the Wolfpack made its first appearance at the Final Four in 1950. But Raleigh knew him for Wolfpack hoops, starting each game with "Good evening, ladies and gentlemen and welcome to William Neal Reynolds Coliseum. Tonight, North Carolina State University is pleased to host as its guest the basketball team from…"
He was a member of the NC State Board of Trustees from 1973-83, president of the Alumni Association from 1970-71 and campaign chair and Wake County fundraiser for the Wolfpack Club.
A frequent member of search committees, C.A. helped hire football coaches Lou Holtz, Bo Rein and Monte Kiffin and chancellors Joab Thomas and Bruce Poulton.
Last Friday, Dillon and his wife Mildred celebrated their 61st anniversary. He is survived by his five children,16 grandchildren and one great-grandchild.