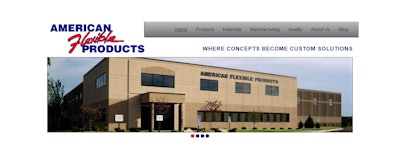 ST. PAUL, MN — Carla Wing, a 22-year veteran of Minnesota-based industrial gasket manufacturer American Flexible Products, has been named president and CEO of the 34-employee company.
Wing, 41, was formerly vice president of operations for the firm, which is an employee-owned company and was formed in 1990 by Butch Givens, Scott McDougall and Nolan Grimm, all of whom have retired from American Flexible.
The company specializes in the design and manufacture of custom-made gaskets, seals, spacers and other products by cutting or converting flexible materials such as silicone, neoprene and rubber. All of its seals and gaskets are custom-made and are used in demanding industries such as aerospace, HVAC, medical devices, high-performance enclosures and industrial machinery.
The company, which sells its products internationally, also specializes in the lamination of materials using products such as 3M's "very high bond" adhesives. Converting processes for gaskets and laminated materials include water-jet cutting, die cutting, rotary cutting and kiss cutting, as well as assembly of specialty customer parts, which need high-tolerance sealing.